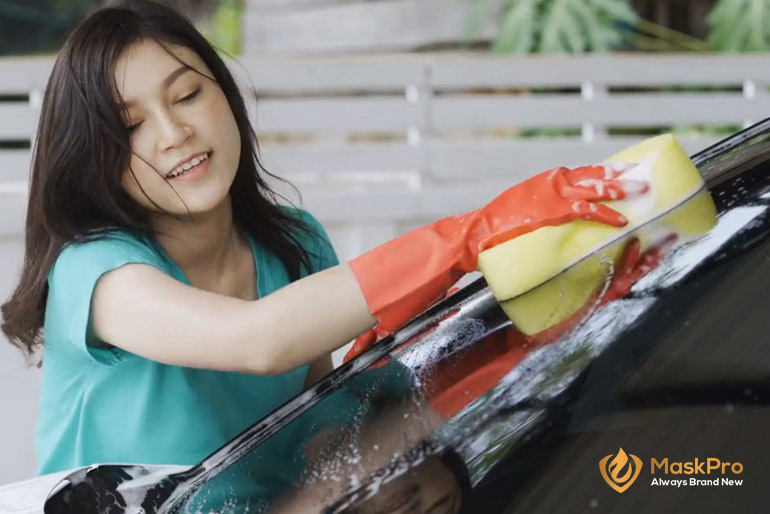 The Right Way to Clean your Ride After Ceramic Coating
We all feel excited to get our cars ceramic coated to make them look brand new again. We feel so protective that we don't even let anyone touch our car. We spend hours scrubbing the tires and wiping down the windows of our vehicles to keep them looking glossy and luxurious.
But have you ever stopped to think if you are cleaning your car the right way? Are you using the right materials? Or is your time and effort wasted because you have been washing your automobile the wrong way all these months?
Cleaning your car the wrong way after getting it treated with nano ceramic coating can damage the coating. And it may also risk the surface with scratches, swirl marks, and ugly watermarks.
The Mistake Car-owners Make When Cleaning Their Cars
People often commit mistakes when cleaning an automobile that leads the car to several damages. Some of the common mistakes are:
Not Dusting the Car. The number one mistake people make when washing their car is forgetting to dust it off before hosing it down. When the dried contamination on the car mixes with water, it creates a muddy solution that gets everywhere. The solution can quickly stick to your washcloth when you attempt to wipe it away, requiring you to rinse the washcloth repeatedly when cleaning your car.
Using the Same Washcloth to Clean Various Parts. Many car washers are too lazy to use different washcloths to clean the tires and the car body, and not rinsing the towel in between. This causes tiny pebbles and stones to stick into the cloth. When these rub against the surface of the car, this may lead to scratches and swirl marks- ruining the ceramic coating.
Using Low-Quality Washcloth. If you're using a low-quality or rough washcloth to clean the ceramic coated car, it may cause abrasion and scratches. If the cloth is not enough absorbing, it may leave watermarks behind.
How to Remove Water Marks on a Maskpro Nano Ceramic Coated Car?
The Best Way To Clean Your Car Without Leaving Streaks
Now the question is: how to avoid the mistakes mentioned above when cleaning a ceramic coated car? And how to keep it from scratches and watermarks?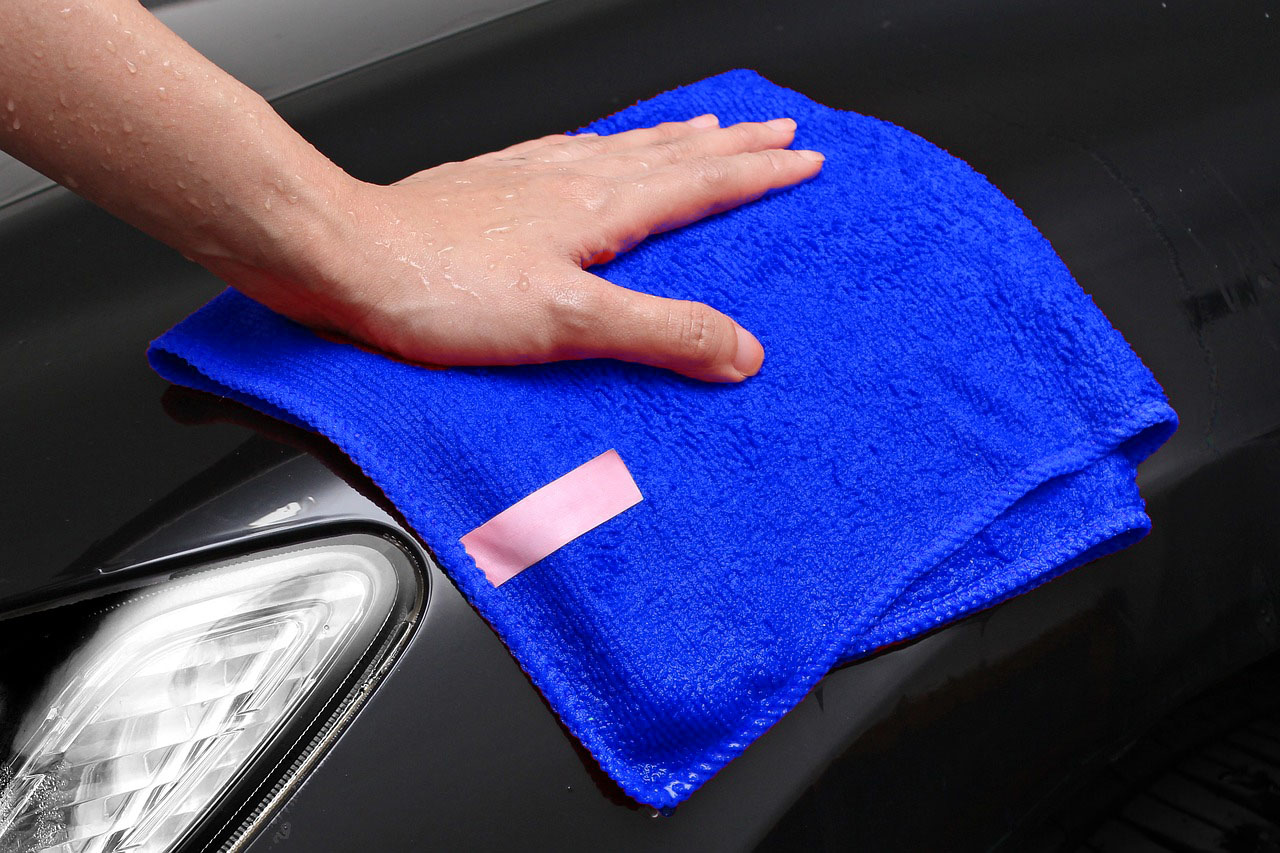 Here are a few tips to follow to make sure that your car is safe and properly cleaned.
When washing your vehicle, it is best to start with the wheels. Your car's tires are the part that is most often in contact with dirt and dust and can even house some small pebbles. Washing this part first ensures that the dirt removed from here will not land on a freshly coated car.
Use a different cloth to clean the tires and the rest of the car's surface. We recommend using a high-quality squeegee to clean the tires. Whereas, to clean other parts, use a soft microfiber cloth. It ensures that your car is safe from scratches, water spots, swirl marks, and other damages.
Make sure that you always rinse the washcloth with plain water in between washing and not using a dirty rag to clean the car.
Instead of wiping random parts, start from up then coming down, so there are no swirls formed. Wipe gently in a circular motion to avoid damage to the paint surface.
After you are done cleaning the car, dry it completely using a soft, clean microfiber towel. Letting the water drip down and dry itself will result in the formation of water spots.
To avoid watermarks, leave your car parked in the shade while it dries. Direct sunlight on the car will cause the water to evaporate prematurely, leaving streaks behind.
The Benefits of Cleaning Your Car at Home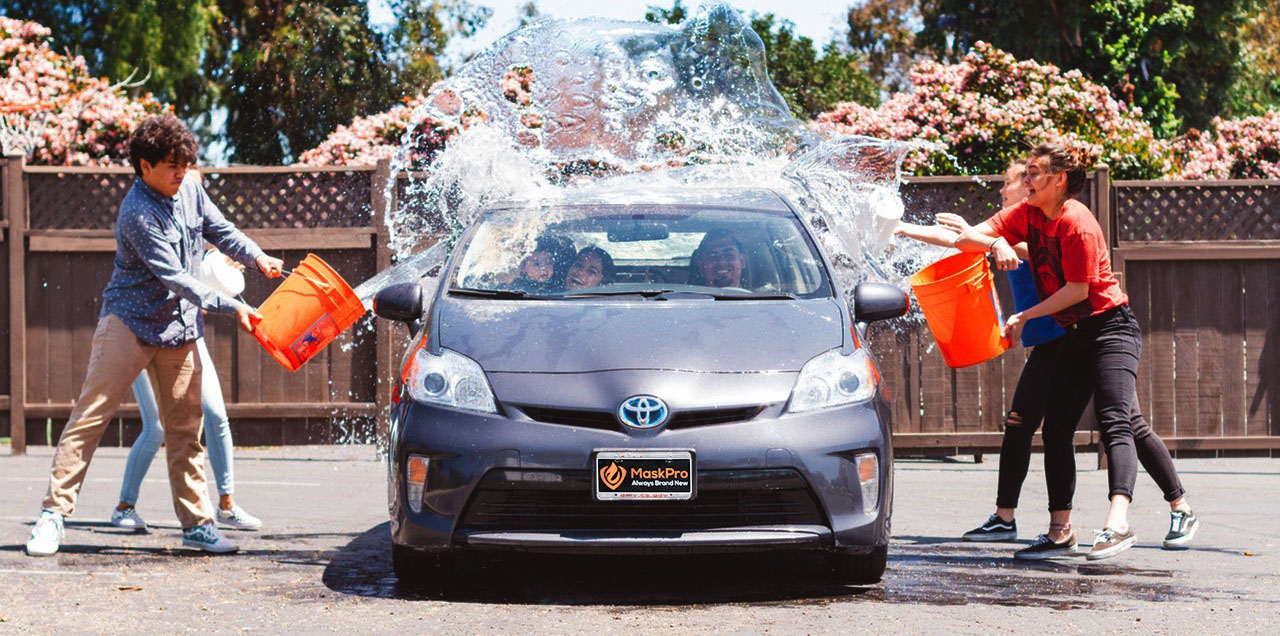 When you take your nano-coated cherished ride to a substandard commercial car wash, you may notice that it comes back with water streaks and scratches on its surface.
To avoid this risk of damaging your car while also paying heavily for its maintenance, we recommend manual wash. Use the one-bucket wash method if your car is not too dirty and if you're short on time. However, for a detailed and thorough cleaning, we recommend using the two-bucket car wash method.
It not only saves you money but also reduces the stress of potential damage to your sweet ride. Moreover, manual car wash is a super therapeutic activity that helps relax your mind.
Follow all the right instructions and enjoy the perfect car wash that makes your car squeaky clean!