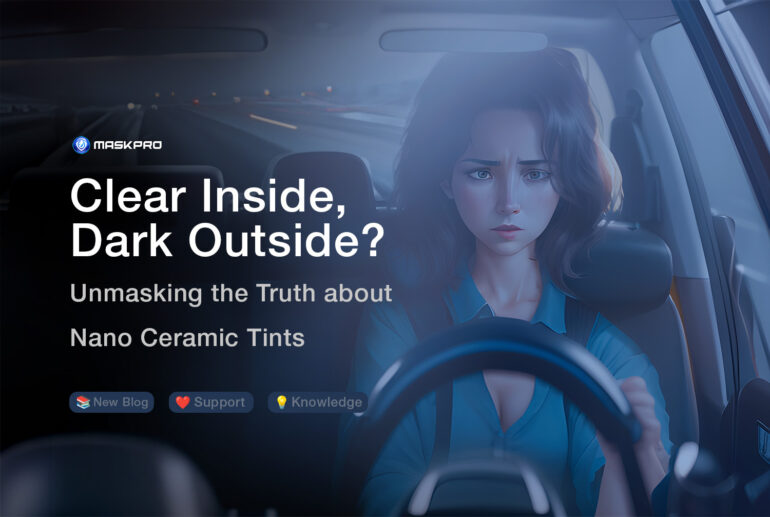 Clear Inside, Dark Outside? Unmasking the Truth about Nano Ceramic Tints
Are you considering getting a new nano-ceramic tint for your car but feeling unsure because of all the talk online? Or you are having trouble with your current nano-ceramic tint installed? Don't worry! We at MaskPro are here to set the record straight about our high-quality nano ceramic tints.
While it is true that nano ceramic tints often provide better clarity than regular tint, there's a popular notion that nano-ceramic tints make the inside of your car clear and appear dark from the outside. It may sound intriguing and visually appealing, but the truth is far from simple. This widespread belief has stemmed from clever advertising campaigns that have, unfortunately, misled many individuals. 😔 However, it is essential to understand that not all nano ceramic tints operate in this manner, primarily due to the variation in Visible Light Transmission (VLT).
🔆 Understanding Visible Light Transmission (VLT)
What's VLT? It's quite simple, actually. VLT tells us how much visible light can get through a car's tint 🌞🔦. A 10% or lower VLT gives a darker shade and more privacy but may lessen clarity for those inside. Conversely, with a 20% or higher VLT, a larger amount of light enters, making the inside more visible from the outside. However, objects or people may appear as silhouettes when viewed from the outside.
🧠 Understanding Shades and Their Corresponding VLT
We at MaskPro offer a wide variety of nano-ceramic tint shades 😎. Each shade comes with a corresponding Visible Light Transmission (VLT). Knowing the VLT for each tint shade is crucial when making your choice since these values can differ. Not every company will fully disclose this information, so being knowledgeable can lead to a better decision. Here is a list of the shades we offer at MaskPro with their associated VLTs:
1️⃣ Ultra Dark Shade (5%-10% VLT)
2️⃣ Super Dark Shade (15%-20% VLT)
3️⃣ Medium Dark Shade (25%-35% VLT)
4️⃣ Light Shade (40%-50% VLT)
5️⃣ Ultra Light Shade (60%-70% VLT)
🙅‍♂️ Debunking the "Clear Inside, Dark Outside" Myth
So does the saying "clear inside, dark outside" apply to all nano ceramic tints? The answer is NO! This concept is not a one-size-fits-all solution. While it may sound appealing, its validity depends on the specific Visible Light Transmission (VLT) you choose 💡. Don't let catchy phrases lead your decision-making 🤔. Take a moment to reflect on what truly matters – your vision requirements, personal comfort, and adherence to local regulations. By considering these factors, you can make an informed choice that aligns perfectly with your needs and ensures that you select the ideal nano ceramic tint for your unique circumstances.
While many claims 💭 point to nano-ceramic tints being dark outside and clear inside, the actual visibility and clarity depend a lot on the specific VLT of that tint. Lower VLT tints will be darker and reduce visibility more, while higher VLT tints provide better clarity.
The illustration below will help you better understand the impact of different VLTs on visibility, particularly in low-light conditions. 🔎 Explore the picture and witness the notable contrast between a 5% VLT and a 70% VLT in a dimly lit environment. This visual demonstration offers valuable insights that can enhance your understanding of the subject 😉.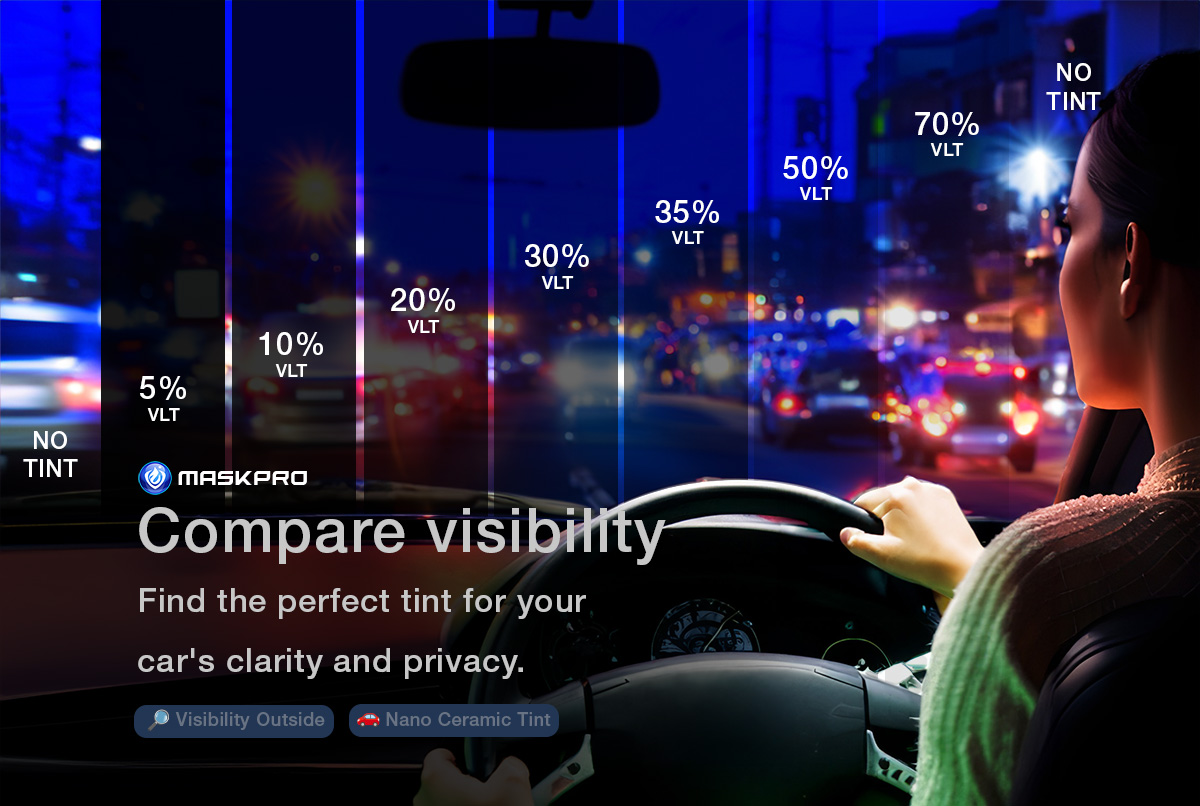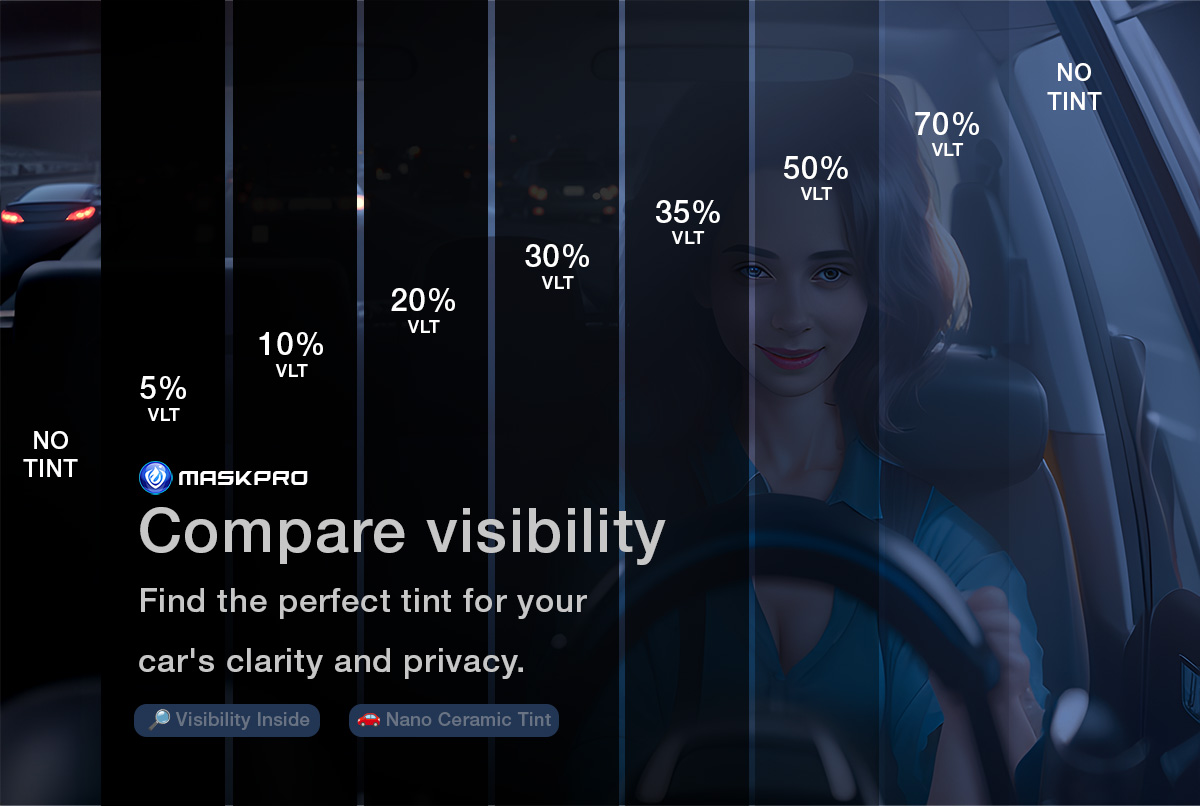 🔦 Factors to Consider in Different Lighting Conditions
Driving in a place that's too dark can be a bit challenging 😖 if you have a 10% VLT or lower. A higher VLT, like 15% – 35%, might be better 😊 if you often drive in such places. But, in the city or places with lots of lights, a lower VLT won't be a problem. Also, remember, regular tints and nano-ceramic tints aren't the same. Nano-ceramic tints have better visibility and clarity thanks to their advanced technology.
🔎 Looking Through the Tint: The Impact of Light and Angle on Visibility
Consider the angle from which you are viewing. Some glare can appear when you observe from a particular angle outside, which can make the tint seem very dark and obscure the view inside the car. Various factors, such as reflections from a building or other objects, can obstruct visibility inside the car. Furthermore, when there is a well-lit background, such as sunlight or a brightly lit area, your figure may appear as a silhouette when viewed through the car windows, especially when you are directly behind the sunlight 🌞 or well-lit background. Encountering this is perfectly normal with medium dark shade tints or even lower VLTs.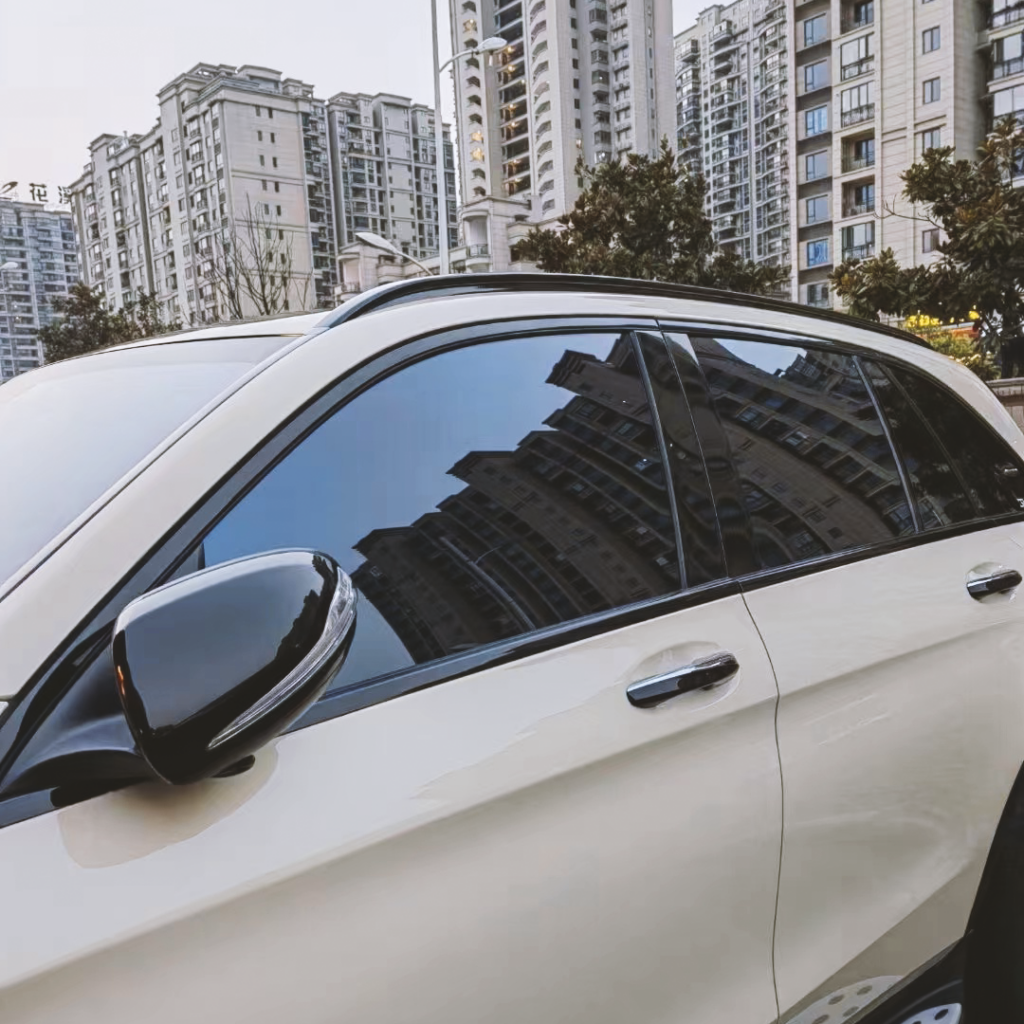 🔑 Each Person's Unique Needs and Finding the Best Solution
Everyone is unique. What works best for you might not work best for someone else. Some people, especially those with certain eye problems, might need a higher VLT. But, it's all about finding what's best for you 😊.
We, at MaskPro, are here to help you find exactly what you need. We want you to have the best tint solution – high-quality, perfect for you, and top-of-the-line. With MaskPro, you'll always feel #MaskProtected 🛡️.
Ready to change the game? Get your quote now. Just go to 🔗www.maskpro.link/myquote and fill out our quick and easy form. You will get your quote almost instantly 🥳!
Go on an adventure with MaskPro's top-notch nano ceramic tints. Experience improved heat rejection, UV protection, less glare, better vision, and more comfort while driving. Don't let anything stop you from enjoying the benefits of MaskPro's nano-ceramic tints 🤗. Get Instant Quote Now: 🔗www.maskpro.link/myquote