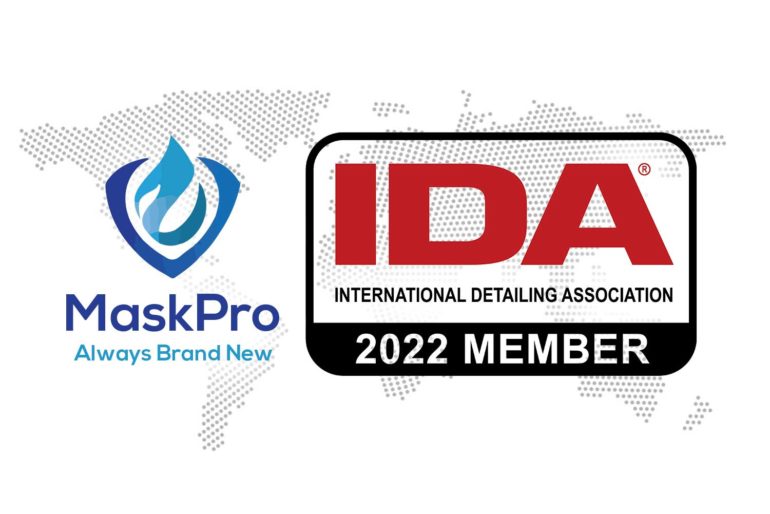 Why You Should Go for IDA Certified Shops
We often think that all auto detailing shops are the same. We assume that they offer the same services at similar price points. So, it doesn't really matter where we take our cars to get them squeaky clean and daisy fresh. That's not precisely accurate.
The truth is, some auto detailing shops are really a cut above the rest when it comes to car knowledge, services, equipment, and products. So how do you know which shops have world-class services? Don't just take their word for it. But find out what the International Detailing Association (IDA), the leading industry association for professional detailing operators, suppliers, and consultants, has to say.
MaskPro: An IDA-Certified Auto Detailing Shop
We're proud to announce that MaskPro has achieved what some have failed to do—secure membership with this highly exclusive organization.
Ever since the establishment of our shop, we've been faithful to our mission of providing top-of-the-line products and first-class services to our clients. And now we have the IDA certification to back up our claim.
Benefits of the IDA Certification
While it sounds prestigious to be a member of an international organization, what does this mean for you, our valued clients? Here are some of the benefits of going to an IDA-certified auto detailing shop.
World-class Auto Detailing Service That's Easy On The Pocket
As we've mentioned, IDA is a premier organization; not every shop can become a member. The few that manage to get in have undergone a rigorous screening process and certification exams. This ensures that the auto detailing shop can deliver high-quality services and all technicians are competent and knowledgeable.
Receiving an IDA certification means the shop has passed the organization's standards and belongs to an elite group with sufficient knowledge and skills to deliver your auto detailing needs. This means that whenever you need auto detailing services when you go to MaskPro, you can rest easy knowing that your car is in the hands of a world-class auto detailing service provider.
Additionally, we've priced all our services to remain competitive, if not lower than most shops that are not IDA-certified.
Auto Detailing Industry Trends and Techniques
Certified members have complete access to the IDA University that host a series of webinar presentations covering a variety of topics to help improve skills and knowledge. This detail might not interest clients that much, but it has substantial implications for the services we render. Our IDA membership provides us with the latest developments in the auto detailing industry. This means that our knowledge and skills are constantly updated and upgraded and that we're always on top of our game.
Connect and interact with detailers around the world
Because IDA is a global organization, certified members have the opportunity to interact with one another. Our membership allows us to communicate with other detailers worldwide and exchange our best auto-detailing practices with one another, helping us become genuinely world-class.
Why settle for less when you can go first-class
By now, you should know that not all auto detailing shops are the same. Some are in the industry for the money the business brings and are only willing to provide bare minimum services. Others, like MaskPro, are here to make a difference by providing you with A-rated products and services, ensuring you and your car are cared for like VIPs.
You might think that receiving world-class status implies high charges and rates. No, it doesn't. We believe that high-quality service should be accessible to everyone. This means our rates haven't changed. So why settle for less when you can go first-class?
What are you waiting for? Stop taking your car to shops that give mediocre services. Make the switch today and experience what it's like to be treated like royalty. You know your car deserves it.
For your auto-detailing needs, go for MaskPro, your IDA-certified detailer that cares for you.