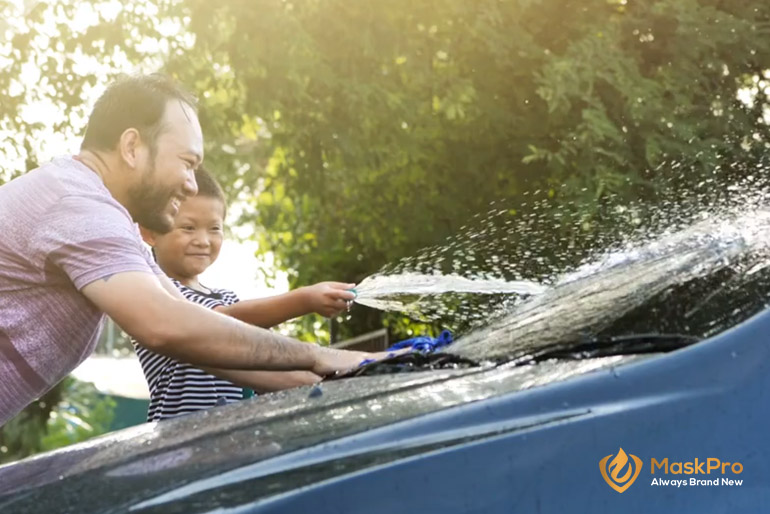 Post-maintenance
Queries and tips on vehicle maintenance and wash after MaskPro Nano Ceramic Coating.
How do I keep my car well maintained after MaskPro Nano Ceramic Coating?
Just like you take care of your skin after facial, your car needs proper care after coating. That doesn't mean, it needs wax, polish or recoating to keep it safe from harmful chemical effects. MaskPro Nano Ceramic Coating solves 99% of your problems but, you have to take care of the remaining 1% for enduring results.
Here are some simple recommendations to keep your vehicle fresh and safe after coating.
Wash your car regularly; at least weekly or bi-weekly to keep your car safe from heavy dust and film build up.
While washing your car, start from the upper surface then come to the down to avoid cross-contamination.
Hand-wash is better than automated wash because it rinses all the film and dust.
How do I protect my vehicle from scratches and flap smacking after coating?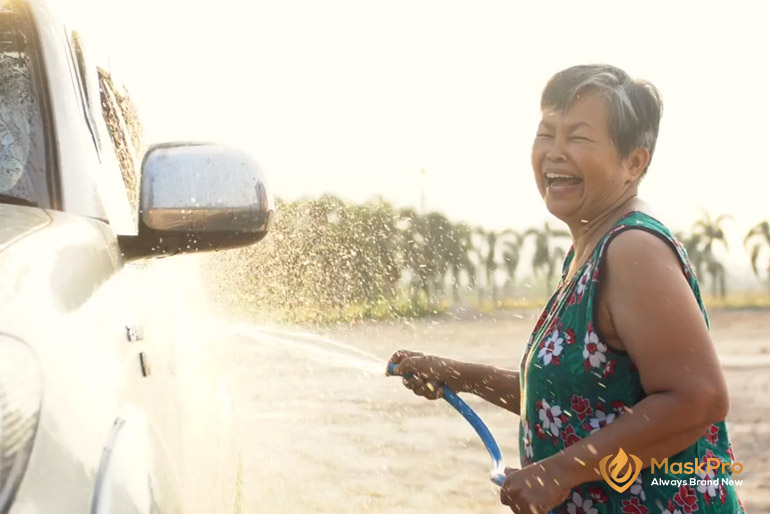 MaskPro Nano Ceramic Coating is scratch resistant but not scratch proof, so you have to take proper care of your vehicle. For this, avoid the use of brush automated wash as it can put scratches and marring into the coating, though not into the clear coat.
We recommend,
Two-bucket wash method; one bucket for wash solution/soap and other for rinsing it. You will put grit guard into each bucket to release the dust at the bottom of the bucket.
Rinseless wash; wash your car in slices using less water mixed with the rinseless wash to remove dust and dirt from vehicle's coat.
For an automated car wash, let it be a touch-free wash. Touchless wash ensures there are no big flaps smacking against the surface of your vehicle.
Touchless wash can either be nozzle; you spray it down yourself, or you may drive through it and give juts of water.
What if there are film remains and contamination on my car surface after car-wash?
The reason for film remains on car surface is the use of cheap detergent such as hydrofluoric acid mixed with soap to clean the dirt. It may accumulate and result in contamination/film if it leaves on a car surface for a long time.
So, we recommend,
Make sure the use of high-quality detergents that may not result in accumulation then contamination.
Use separate soap and sponge for wheels because they are dirtier than other surfaces of the vehicle.
What if it becomes necessary to wash my car within a week after ceramic coating?
In such a situation, use only water to clean your car and make sure to dry it with a microfiber towel. It should be 100% dry. If there any spot appears within the seven days, wait for the coating to get leveled. However, if the high spot is still there after the time period, call us and we will be glad to fix it.
What if the hydrophobic abilities of my car fail after a few months of coating?
First of all, you are advised to wash your car regularly because heavy dirt impacts the hydrophobic abilities of the coating. Your car might need more than a standard wash if it dirt has impacted its hydrophobic abilities. However, if you take proper care of your car and still hydrophobic abilities are affected then contact us. We will be glad to fix this issue.
After how many days of the coating should I wash my car?
Don't wash your car for the first seven days after getting your car coated with MaskPro Nano Ceramic Coating. The reason is coating continues to level and hardness for the first week, and wash or exposing it to chemicals for the 7 days can harm the coating.