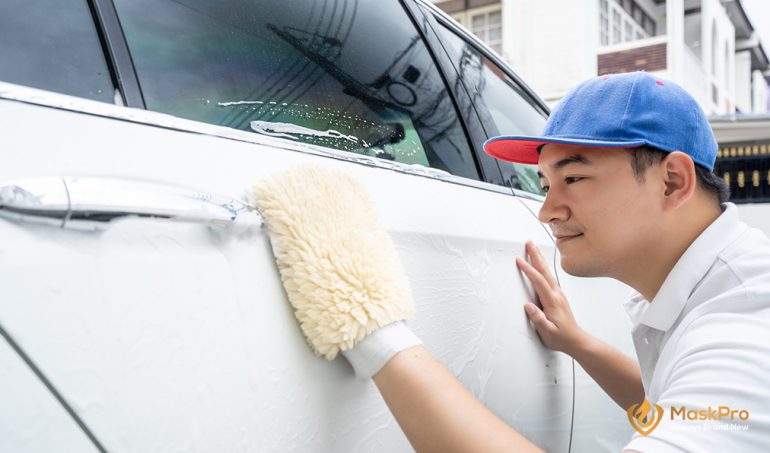 How to Rinseless Wash Your Vehicle – Maintain a MaskPro Nano Ceramic Coated Cars
After car detailing with MaskPro Nano Ceramic Coating, It's essential to keep your car clean and well maintained to keep the gloss and shine of your MaskPro Nano Ceramic coated car. But, washing your car can make a lot of mess because of water, rinsing it off and waiting for it to get dried. This process may also take a lot of your time. So, what to do?
The perfect solution for this is rinseless car wash that uses less water, doesn't require rising off the vehicle and saves your time. No water, no rinsing, no wait to get it dried off!
Rinseless car wash is, in fact, the best wash after car detailing, specifically MaskPro Nano Ceramic Coating. It is not waterless wash, but uses less water that doesn't run down on the floor, and is economical as well.
Let us learn how to carry out the rinseless wash process.
Things Needed for Rinseless Car Wash
Before starting the rinseless wash, make sure you have all the necessary items available that you would need to carry out the process. These include;
A bucket; usually holding up to 5 gallons of water. Then prepare 2 or 3 gallons of water.
Rinseless wash solution
Microfiber bone sponge
Large microfiber towel and small microfiber edgeless towel
Grit guard insert (recommended)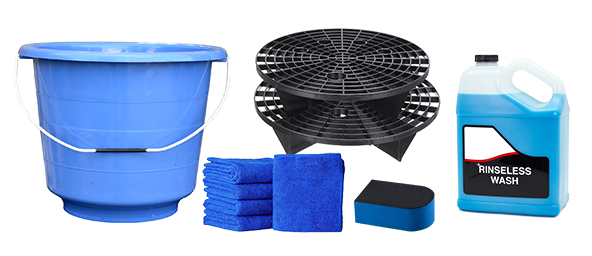 The Process of Rinseless Washing
Provided that you have all the necessary items available, now it's time to apply rinseless wash to your vehicle. Rinseless wash is same as a normal wash, apart from it doesn't need rinsing off later.
To carry out rinseless car wash, follow these steps;
1. Getting Started
Take a bucket, let it be a big bucket as 5-gallon bucket, and fill it with 2 to 3 gallons of water.
Tip: You can also use two buckets; one for rinseless wash solution and other containing clean water with grit guard insert. It will trap the dirt and residue you remove from your vehicle and settle it at the bottom of the second bucket.
2. Measure the required mixture
Now you have to measure the concentration of rinseless wash to be mixed with water. The most recommended method is; 1ounce of rinse less wash for 2 gallons of water.
After measuring the concentration, simply mix rinseless wash to the water.
Tip: Make sure to buy the high-quality rinseless wash as it will be more effective to trap the dirt and clean your car.
3. Start applying rinseless wash using a microfiber sponge
The main idea behind rinseless wash is to clean and wash the one panel of your car at a time. It can be helpful to wash only a specific panel of the car if the rest of the surface is not dirty, or the whole car.
Apply rinseless wash on one panel of your vehicle
Apply rinseless wash solution to the quarter panel of your car with the help of microfiber bone sponge and gently let the wash mitt. The first mitt will catch the dirt and dust from the coat of your car.
Tip: Use the front side of the sponge to apply rinseless wash on your car because the back side can result in scratches and put swirl marks on the coat of your car. Also, don't push it hard, just mitt the solution to avoid scratches.
Applying rinseless wash on different sections of your vehicle
As said earlier rinseless wash applies to one section at a time, so below are the recommendations to slice up your car into sections:
Start applying from the roof, wash the roof first
After the roof, do front glasses
Now do rare glasses
After rare glasses, clean the trunk
Now apply on the hood
Now do one panel then rest of vehicle in panels.
Clean tires at last because they are dirtier than other parts of the vehicle
4. Clean the rinseless solution using a large microfiber towel
After applying the rinseless wash solution to a panel, gently wipe it with a large microfiber towel to soak up the dirt and residue. Let it be a gentle touch to keep coat safe from any damage and scratches.
5. Complete dry the coat
In most of the cases, a single wipe will remove all the residue and dust from your vehicle panel. But, we recommend using small edgeless microfiber to remover the leftover moisture.
6. Repeat the process on other parts of the vehicle
You're done with one panel of the vehicle. Repeat the same process to the remaining panels and let your MaskPro Nano Ceramic coated vehicle shine.
Note: After applying sponge mitt to each panel, pass it through clean water bucket and grit guard to remove dust off it. Again, put it in rinse wash bucket before applying to a new panel.
We've been trusted by many customers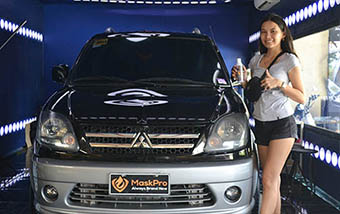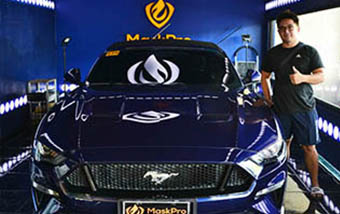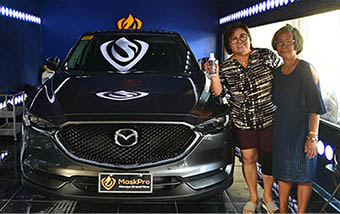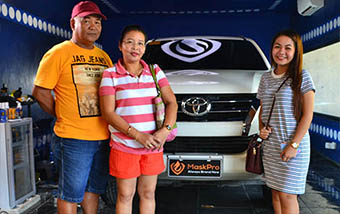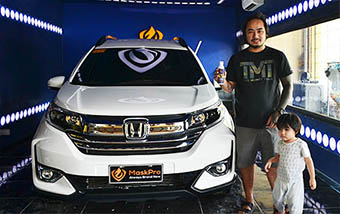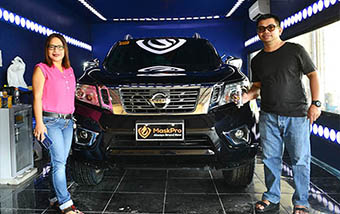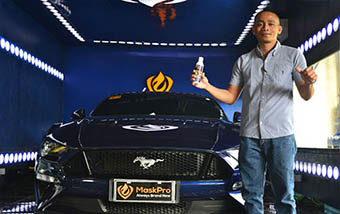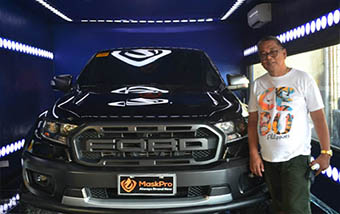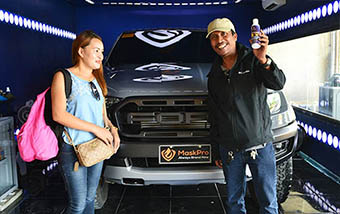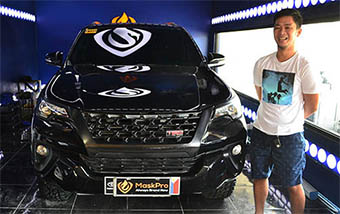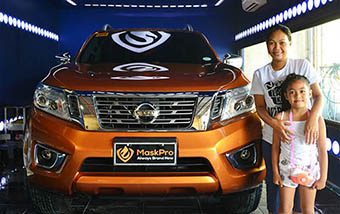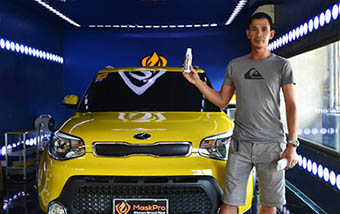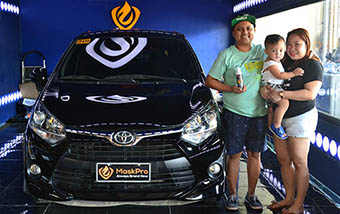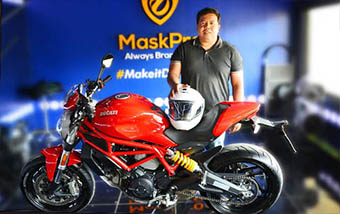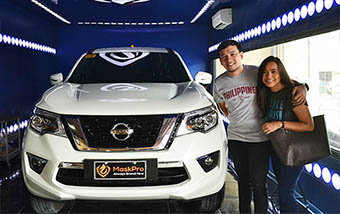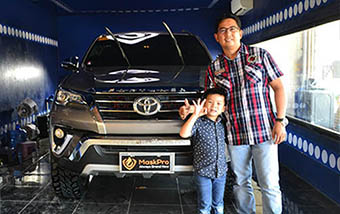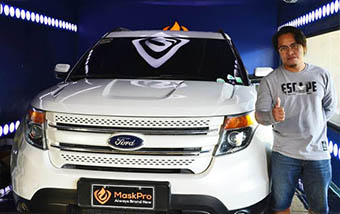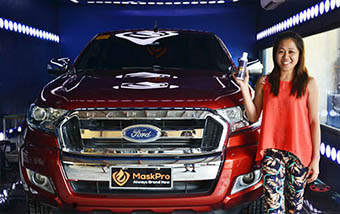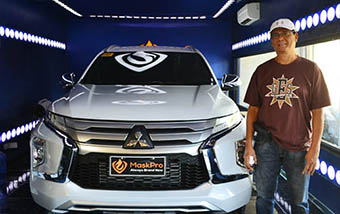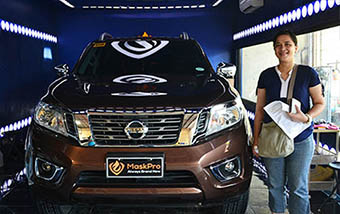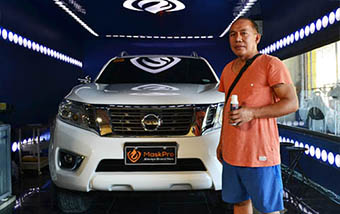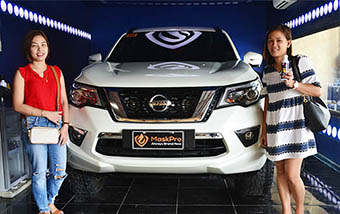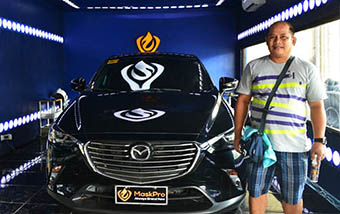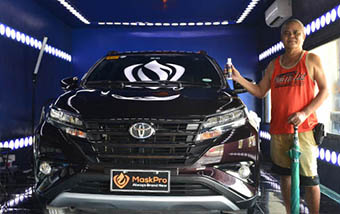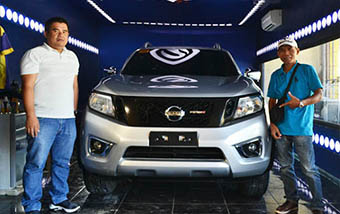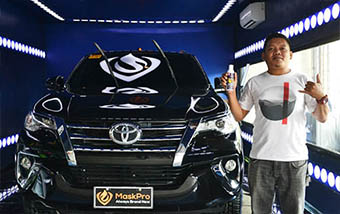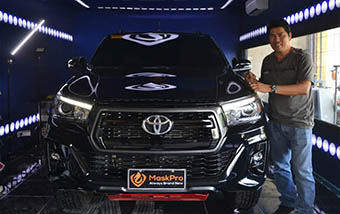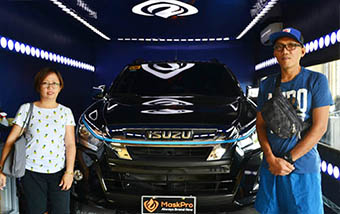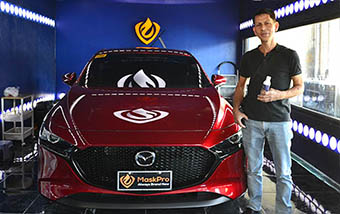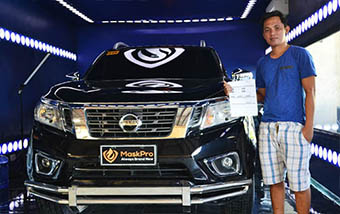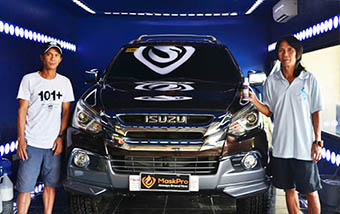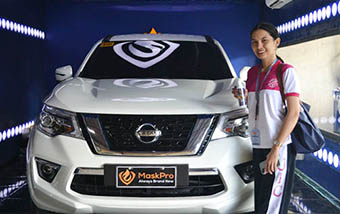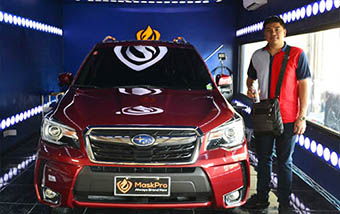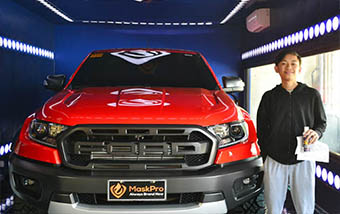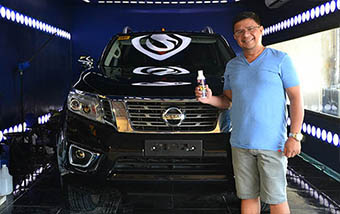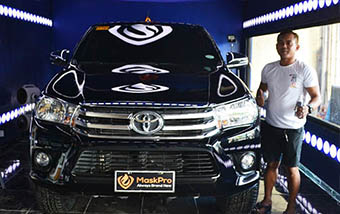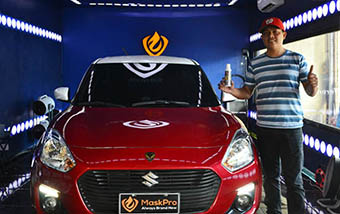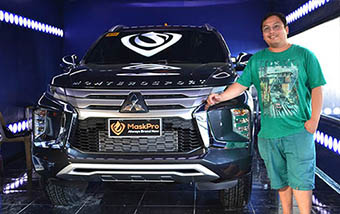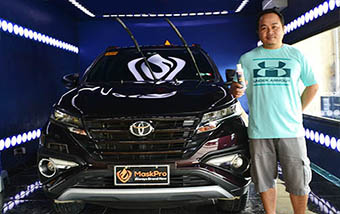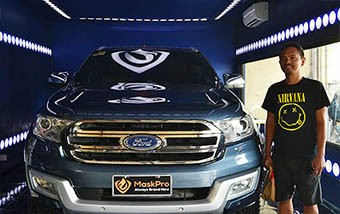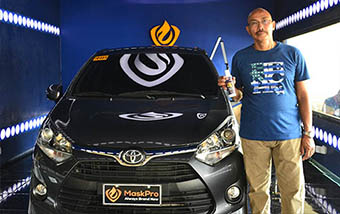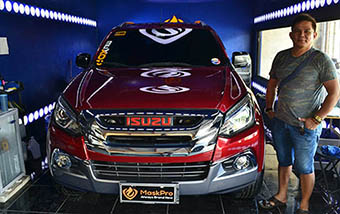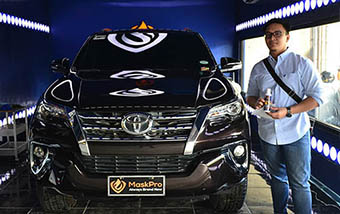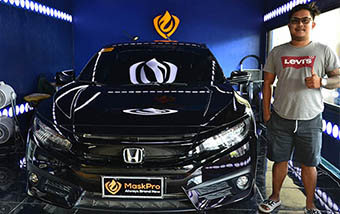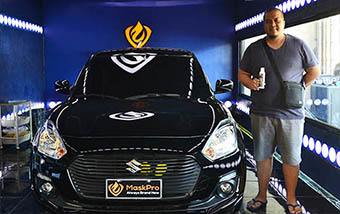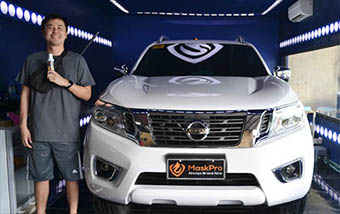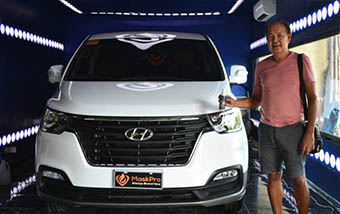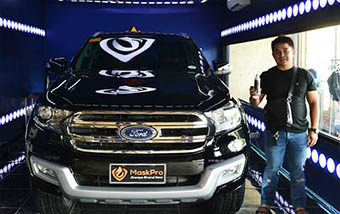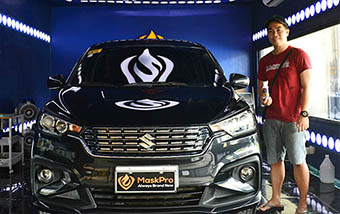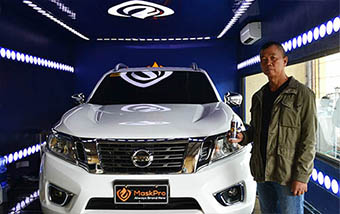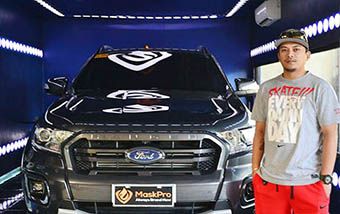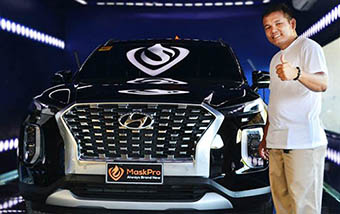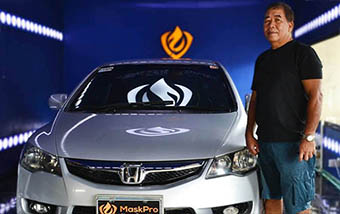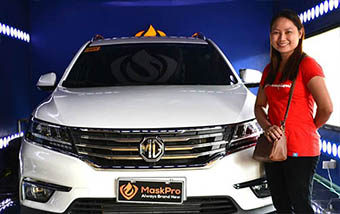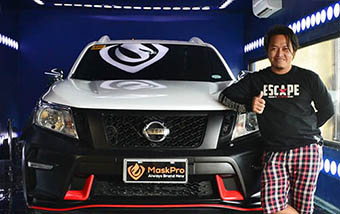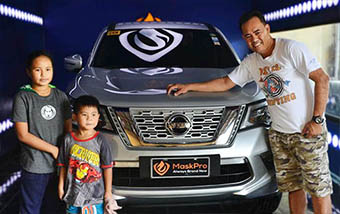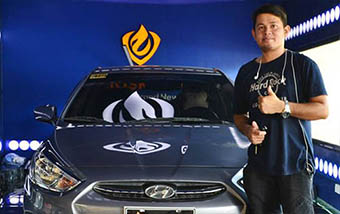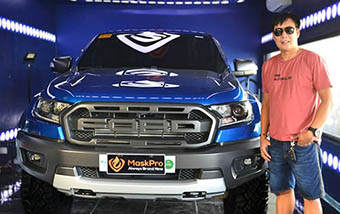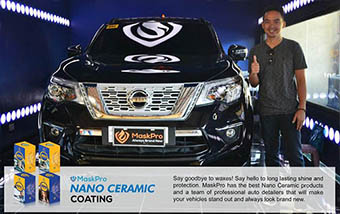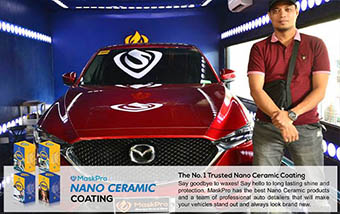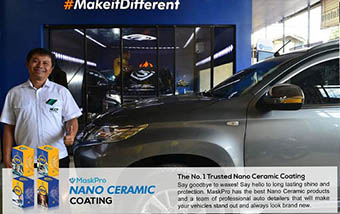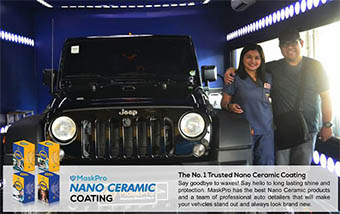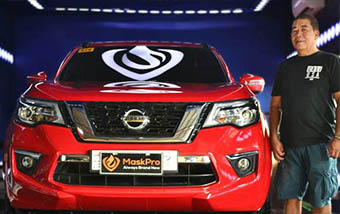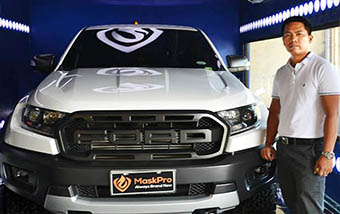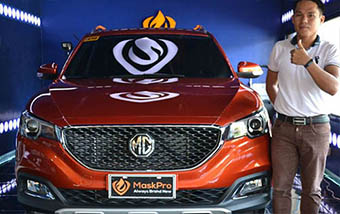 Maskpro_Nano_Ceramic_Satisfied_Customers_340x214_23.2
Maskpro_Nano_Ceramic_Satisfied_Customers_340x214_40.2
Maskpro_Nano_Ceramic_Satisfied_Customers_340x214_11.2
Maskpro_Nano_Ceramic_Satisfied_Customers_340x214_7.2
Maskpro_Nano_Ceramic_Satisfied_Customers_340x214_24.2
Maskpro_Nano_Ceramic_Satisfied_Customers_340x214_10.2
Maskpro_Nano_Ceramic_Satisfied_Customers_340x214_15.2
Maskpro_Nano_Ceramic_Satisfied_Customers_340x214_2.2
Maskpro_Nano_Ceramic_Satisfied_Customers_340x214_3.2
Maskpro_Nano_Ceramic_Satisfied_Customers_340x214_49.2
Maskpro_Nano_Ceramic_Satisfied_Customers_340x214_4.2
Maskpro_Nano_Ceramic_Satisfied_Customers_340x214_31.2
Maskpro_Nano_Ceramic_Satisfied_Customers_340x214_25.2
Maskpro_Nano_Ceramic_Satisfied_Customers_340x214_51
Maskpro_Nano_Ceramic_Satisfied_Customers_340x214_18.2
Maskpro_Nano_Ceramic_Satisfied_Customers_340x214_8.2
Maskpro_Nano_Ceramic_Satisfied_Customers_340x214_52
Maskpro_Nano_Ceramic_Satisfied_Customers_340x214_20.2
Maskpro_Nano_Ceramic_Satisfied_Customers_340x214_1.2
Maskpro_Nano_Ceramic_Satisfied_Customers_340x214_12.2
Maskpro_Nano_Ceramic_Satisfied_Customers_340x214_13.2
Maskpro_Nano_Ceramic_Satisfied_Customers_340x214_21.2
Maskpro_Nano_Ceramic_Satisfied_Customers_340x214_5.2
Maskpro_Nano_Ceramic_Satisfied_Customers_340x214_6.2
Maskpro_Nano_Ceramic_Satisfied_Customers_340x214_27.2
Maskpro_Nano_Ceramic_Satisfied_Customers_340x214_9.2
Maskpro_Nano_Ceramic_Satisfied_Customers_340x214_14.2
Maskpro_Nano_Ceramic_Satisfied_Customers_340x214_39.2
Maskpro_Nano_Ceramic_Satisfied_Customers_340x214_16.2
Maskpro_Nano_Ceramic_Satisfied_Customers_340x214_17.2
Maskpro_Nano_Ceramic_Satisfied_Customers_340x214_19.2
Maskpro_Nano_Ceramic_Satisfied_Customers_340x214_22.2
Maskpro_Nano_Ceramic_Satisfied_Customers_340x214_26.2
Maskpro_Nano_Ceramic_Satisfied_Customers_340x214_28.2
Maskpro_Nano_Ceramic_Satisfied_Customers_340x214_29.2
Maskpro_Nano_Ceramic_Satisfied_Customers_340x214_30.2
Maskpro_Nano_Ceramic_Satisfied_Customers_340x214_32.2
Maskpro_Nano_Ceramic_Satisfied_Customers_340x214_34.2
Maskpro_Nano_Ceramic_Satisfied_Customers_340x214_35.2
Maskpro_Nano_Ceramic_Satisfied_Customers_340x214_36.2
Maskpro_Nano_Ceramic_Satisfied_Customers_340x214_37.2
Maskpro_Nano_Ceramic_Satisfied_Customers_340x214_38.2
Maskpro_Nano_Ceramic_Satisfied_Customers_340x214_41.2
Maskpro_Nano_Ceramic_Satisfied_Customers_340x214_42.2
Maskpro_Nano_Ceramic_Satisfied_Customers_340x214_43.2
Maskpro_Nano_Ceramic_Satisfied_Customers_340x214_44.2
Maskpro_Nano_Ceramic_Satisfied_Customers_340x214_45.2
Maskpro_Nano_Ceramic_Satisfied_Customers_340x214_46.2
Maskpro_Nano_Ceramic_Satisfied_Customers_340x214_47.2
Maskpro_Nano_Ceramic_Satisfied_Customers_340x214_48.2
Maskpro_Nano_Ceramic_Satisfied_Customers_340x214_58
Maskpro_Nano_Ceramic_Satisfied_Customers_340x214_59
Maskpro_Nano_Ceramic_Satisfied_Customers_340x214_60
Maskpro_Nano_Ceramic_Satisfied_Customers_340x214_61
Maskpro_Nano_Ceramic_Satisfied_Customers_340x214_62
Maskpro_Nano_Ceramic_Satisfied_Customers_340x214_63
Maskpro_Nano_Ceramic_Satisfied_Customers_340x214_64
Maskpro_Nano_Ceramic_Satisfied_Customers_340x214_65.2
Maskpro_Nano_Ceramic_Satisfied_Customers_340x214_66
Maskpro_Nano_Ceramic_Satisfied_Customers_340x214_67
Maskpro_Nano_Ceramic_Satisfied_Customers_340x214_68
Maskpro_Nano_Ceramic_Satisfied_Customers_340x214_69
Maskpro_Nano_Ceramic_Satisfied_Customers_340x214_50
Maskpro_Nano_Ceramic_Satisfied_Customers_340x214_55
Maskpro_Nano_Ceramic_Satisfied_Customers_340x214_56
Maskpro_Nano_Ceramic_Satisfied_Customers_340x214_53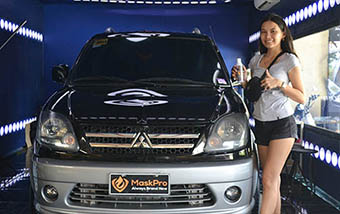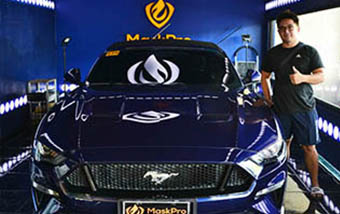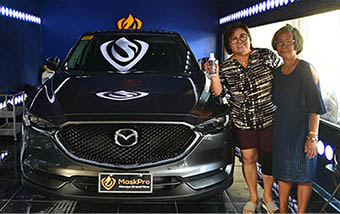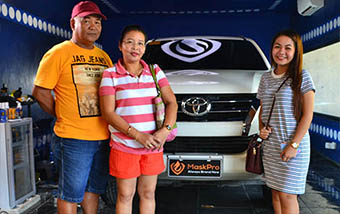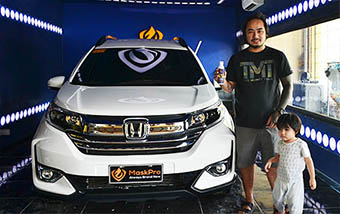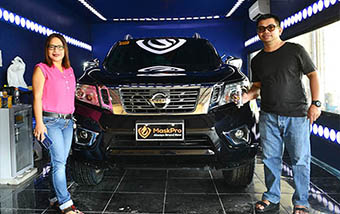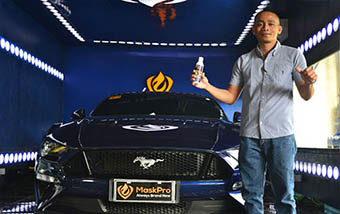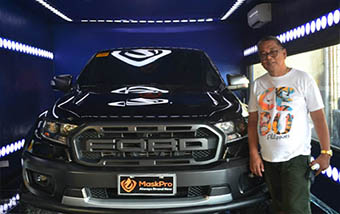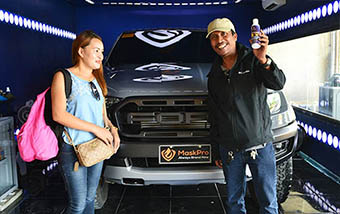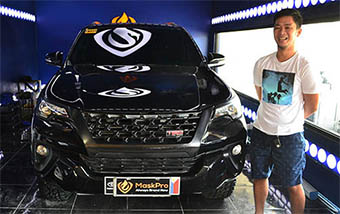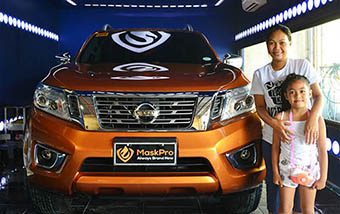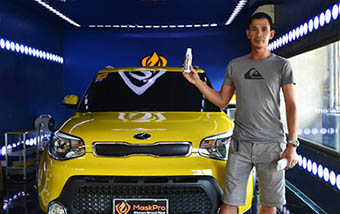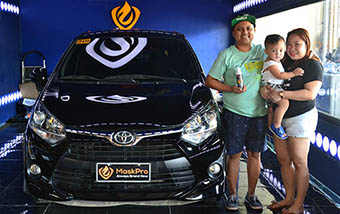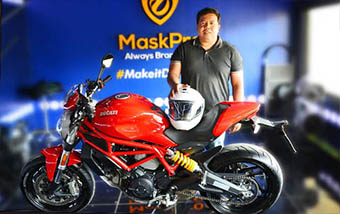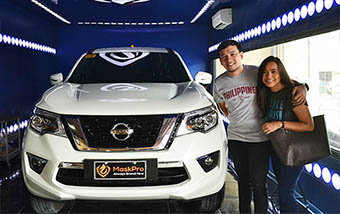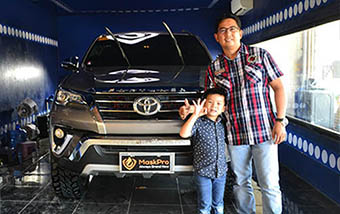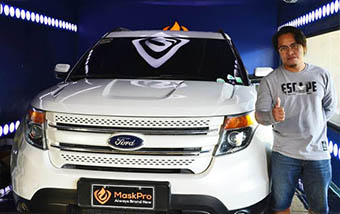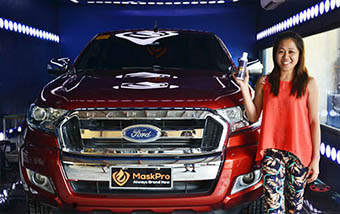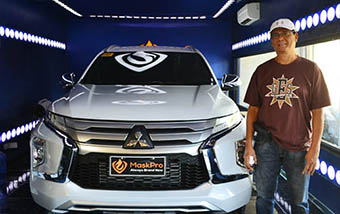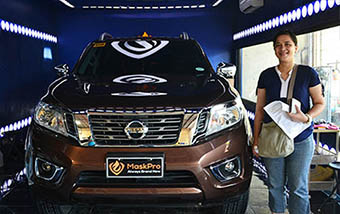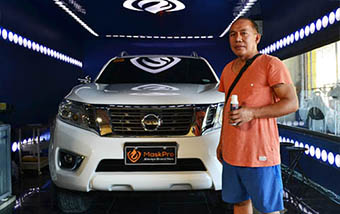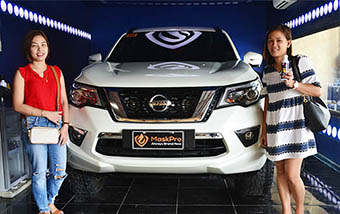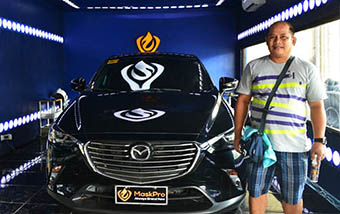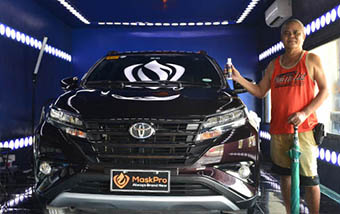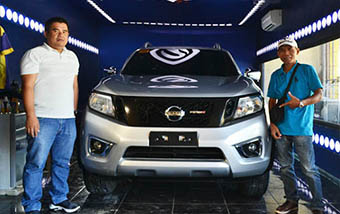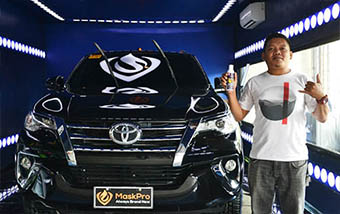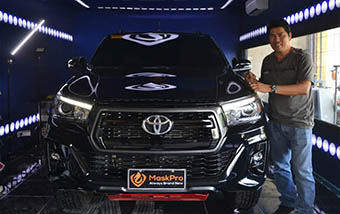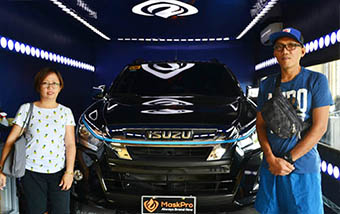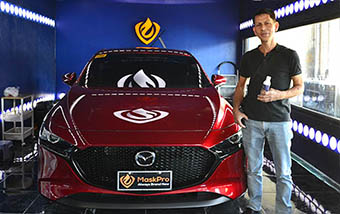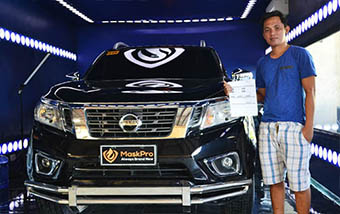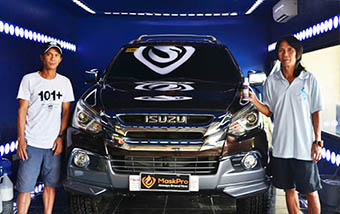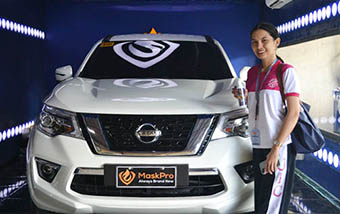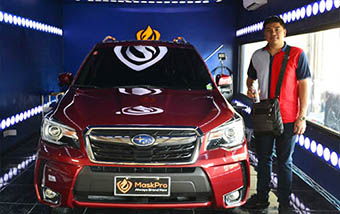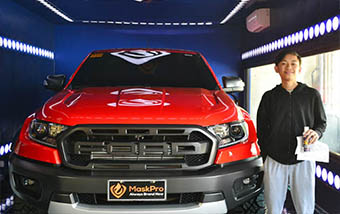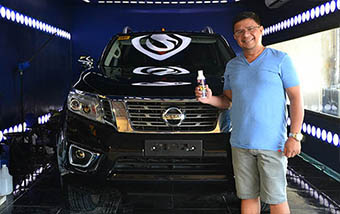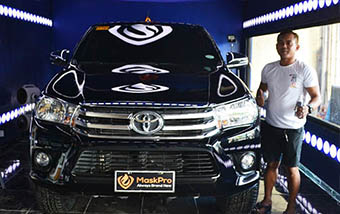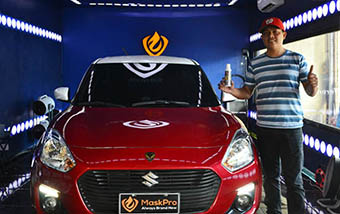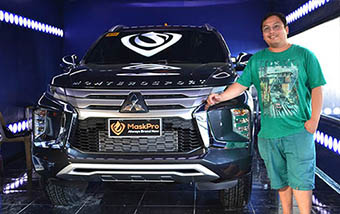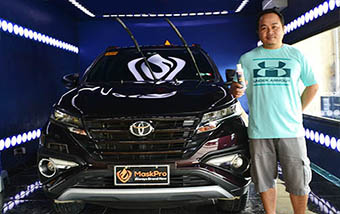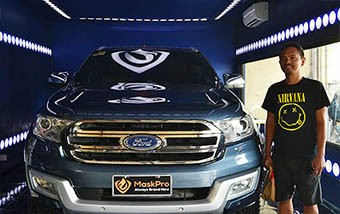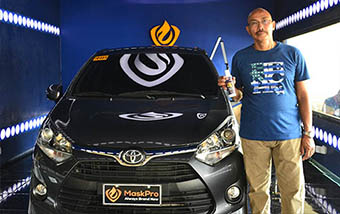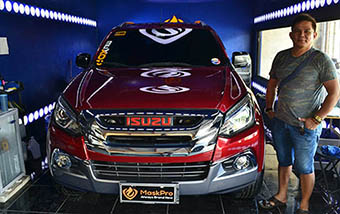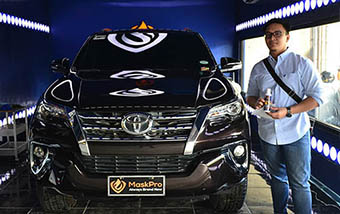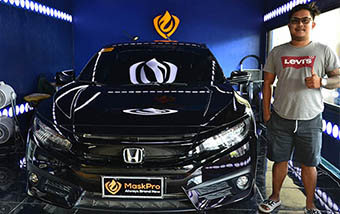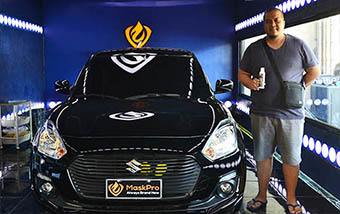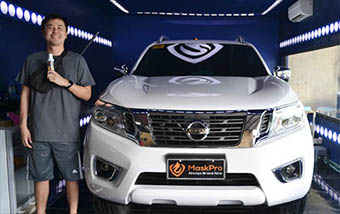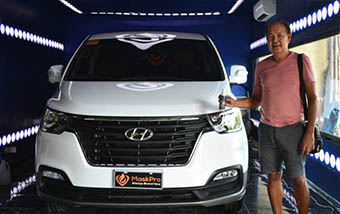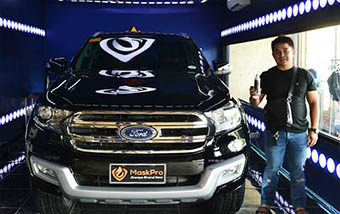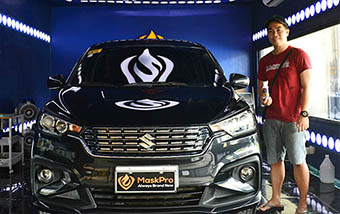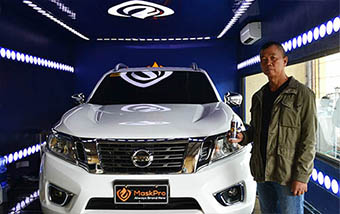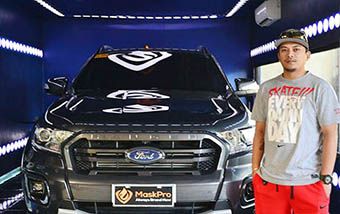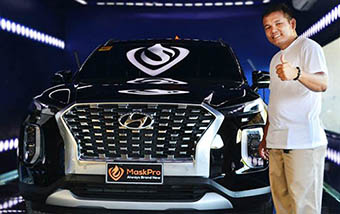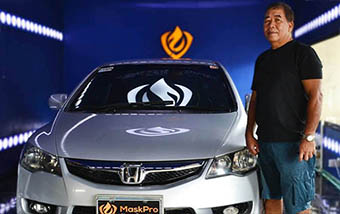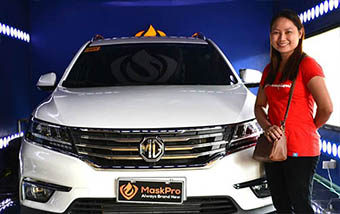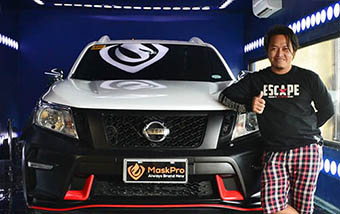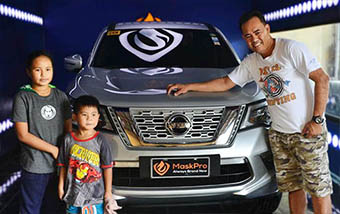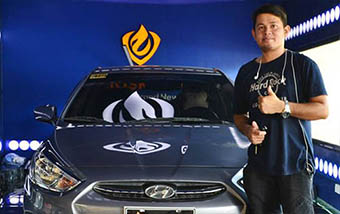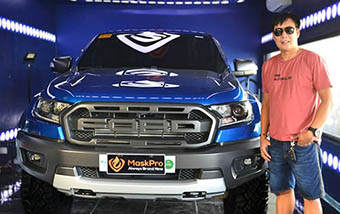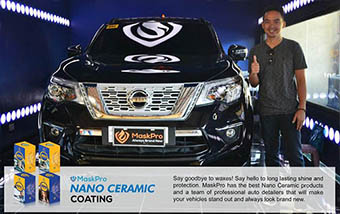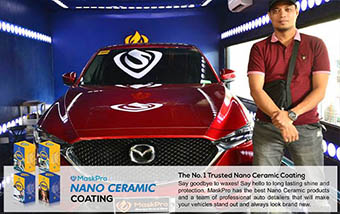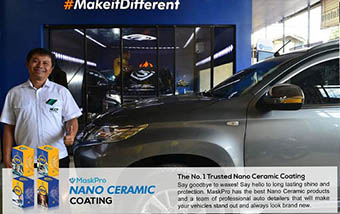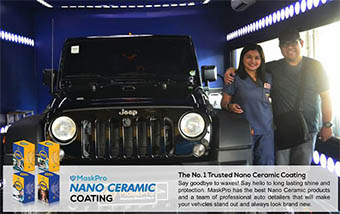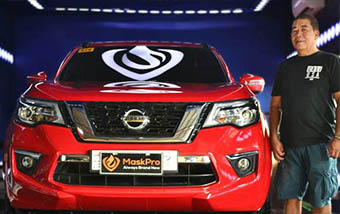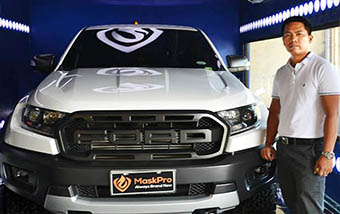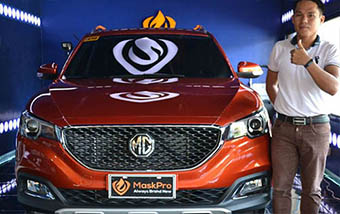 Real and Honest Reviews
Irene Gargar-Porras
2023-12-07T07:43:38+0000
Availed of Maskpro Davao's Ceramic Tint service and I couldn't be any happier of their work. It was done flawlessly

...

and promptly. The new tint made my car look brand new outside and provided the perfect sun shield inside. It has helped blocked the view inside, but without dimming your vision of the outside. Also, the staff are accommodating and polite. Indeed, I have made the right decision in choosing Maskpro Davao. The quality of their product and service is worth every penny. Keep it up, Maskpro!

read more
Karl Michael Steven Tima-an
2023-12-04T10:40:20+0000
The staff are very professional and accommodating. They also respond to queries immediately. Highly Recommend MaskPro

...

Davao. 💯

read more
Vince Peter Cortez
2023-12-03T09:54:09+0000
exceptional service, will also take our other vehicles here.
Al Mojier Maddie
2023-12-02T10:45:25+0000
Outstanding work and customer service. Sulit ang ilang oras na byahe sa ganda ng serbisyo nila👌👌👌
Johnloid Yaeso
2023-12-01T12:47:07+0000
Excellent Quality 10/10🔥 Sinaw jud kaayo Excellent customer service
Koykoy Almeria
2023-11-29T03:31:31+0000
Good and Quality Services
Mai Ortiz-De Castro
2023-11-28T08:15:59+0000
Outstanding work and customer service
Russel Porras
2023-11-25T12:01:58+0000
No1 in Davao! 😎🤙 Come and get your Maskpro experience… 😉
Harvey Suaybaguio
2023-11-25T11:14:56+0000
Great Service. Highly Recommended! 😀
Kaiser Najera
2023-11-24T13:43:20+0000
The detailing is great! Just like they advertise: Always Brandnew! 👍👍👍
Catherine Navarro
2023-11-24T04:53:20+0000
Highly recommended!! Top notch staff and service, looking forward to the next one 🤍
Jessele Mae
2023-11-21T13:02:29+0000
Highly Recommended!!! 👍👍👍
Jamelah Domato Benito
2023-11-18T23:39:54+0000
Maskpro Davao provides great customer service and high quality ceramic coating and ceramic tint on every unit they

...

handle. Highly recommending this shop to everyone who wants to give extra care to their cars. Kudos Maskpro!

read more
Erika Diane Amerkhan
2023-11-13T10:36:12+0000
Premium quality nano ceramic tint + great customer service pa kaya I highly recommend MaskPro Davao 🙌🏼✨
Jaime Musa Ayub
2023-11-10T10:24:48+0000
Courteous and accomodating staff especially in setting and even resetting of appointment by the client. Quality service

...

as advertised. MaskPro Davao lives up to its reputation..

read more
Kim Pascua Gudin
2023-11-10T08:36:58+0000
the quality of the services offered are good and the staff are approachable and friendly, will surely avail your

...

services soon

read more
Ted L. Antipolo
2023-11-09T09:58:44+0000
Availed of their ceramic coating with free maintenance. I really like their service. They provide a reminder via sms

...

when you're due for your free maintenance. The package price is really worth it. Excited for my next visit...

read more
Ahiezer Caballero
2023-11-09T09:09:17+0000
Great services. Friendly and approachable staffs. Recommended.
Ai Sing Villanueva
2023-11-09T07:10:42+0000
Maskpro Davao, Thank you for making shine bright like a diamond look of our Toyota GR sport, looking more hunky with

...

the new touch of ceramic coating, highly reccommended po, lalo na sa mga new owned car para mas ma preserved and will last ang brand new color. Two thumbs Up to Team MaskPro davao 👍👍 and to mam jerahh for accomodating as well😊 Godbless po!

read more
Trisha Cua
2023-11-08T21:47:55+0000
Highly recommend this shop! Ms Jhen, accommodated us well. Glad i listened to her advise on what shade to put on our

...

car! I was a bit hesitant to put ultra dark on the drivers and passengers side since i have difficulty seeing at night. But it was clearly visible from the inside still! Yesterday, our car was parked outside s&r. It was a hot day. But when we got iinside tha car after almost 3 hours of shopping. It was not hot inside at all! So happy with my purchase! Thank you MaskPro Davao

read more
Jes Pal
2023-11-08T04:27:01+0000
Good job! Maskpro! Looking forward for my next unit with you!
Cayle Nixie Mamites
2023-11-08T04:21:22+0000
Highly Recommended. Thank you so much💯
Bodz Peralta
2023-11-07T22:40:36+0000
Excellent Customer Service and Professionalism.
Joseph Barcelona Oquendo
2023-11-07T11:13:57+0000
💯 highly recommended. customer oriented ang mga staffs og og pulido jud kayo trabaho. kung naay concerns dali ra kayo

...

sila mu-address.

read more
Ferdinand Villamor
2023-11-07T08:22:26+0000
I got my car coated with ceramic, and it looks amazing. The finish is not just beautiful, but also very clean. The

...

staff were great too, friendly and easy to talk to. I highly recommend them for their excellent ceramic coating and top-notch customer service.

read more
Anne Marie
2023-11-05T14:11:44+0000
Highly recommend MaskPro Davao Extremely happy with the Ceramic Coating results for my new Nissan Navara Pro 4x my car

...

now is always looks brand new and protected from the scratch and easy to clean. extremely passionate and knowledgeable very professional! kudos to the entire team for the outstanding work! I want to recognize Miss Shenzen for her friendly customer service and very well accomodating. she helped me arranged the appointment and patiently advice and explained well what was the ceramic couting benefits. Highly appreciated.❣️ Thank you.!🙏

read more
Angels Commrcial Place
2023-11-04T11:41:12+0000
Im impressed🤩 keep up the good work! Highly recommend MaskPro to anyone looking for quality& excellent service.
Andhe O. Gonzales
2023-10-27T09:42:19+0000
Excellent always Brandnew car thumbs up, i recommend this nano ceramic to your car
Andrie Montero
2023-10-10T02:10:49+0000
Since my car is brand new I need an extra protection mask pro delivered it looking forward to do more business with you
Cha Cortez
2023-09-25T09:54:03+0000
after the tint installation, the car didn't only feel cooler but the windshield became clearer. I no longer use my

...

glasses when i drive during daytime. My son (my constant passenger) told me the car feels less hotter. definitely one of the best/worthy purchases i made. i also appreciate, jhenny, their sales assistant who has been very accommodating and very responsive to inquiries.

read more
Marlon Carballo Rellon
2023-09-08T00:29:31+0000
My car seems to be my 2nd home. I always preferred it to be cleaned, organized, & protected. The Services are

...

excellent, and the Staff are all friendly and approachable. Thank you MaskPro for providing assistance & support. I felt satisfied & contended. Way to go MaskPro.

read more
Noims Perez
2023-08-24T01:17:46+0000
Thank you MaskPro for going above and beyond to meet my needs and expectations. Your hard work and dedication are

...

evident, and I am grateful for your efforts in ensuring my satisfaction. It's refreshing to experience such a positive interaction, and I look forward to continuing to engage with your services in the future. Highly recommended! Satisfied with the services and product

read more
Ackerman Levi
2023-07-26T06:58:49+0000
Good products and customer service
Da Boat
2023-07-04T01:31:53+0000
superb ang customer service ni maskpro. recommended ko sya.ginawan tlga ng paraan ang request ko for week end schedule

...

kahit off sila on sunday. pulido din ang gawa nila ng ceramic coating..thumbs up!

read more
Marissah Taray-Tabla Alvarado
2023-05-23T05:15:49+0000
I highly recommend this MaskPro Ceramic Tint ang clear ng view from inside. tsaka heat proof talaga siya. kahit mahina

...

lang ang temp ng AC pero malamig na siya. 😍😍😍😍 thank you for this kind of product. 😘😘😘

read more
Robin Gepte
2023-05-03T05:53:19+0000
highly recommended, worth it
Jeulina Damalerio
2023-05-02T06:41:33+0000
Highly recommended and service was good! Thank you.
Alex Valencia Tuballes
2023-03-11T11:18:45+0000
professional worksmanship! but needs follow-up instruction to the staff the description of the scope of work!
Mark Steven Sucayan
2023-02-02T01:47:49+0000
Good Service and Good Quality sa products nila Lalo na ang staff super bait ! 10/10
Laridia Angagao- Latip
2022-12-10T23:13:22+0000
Good quality ang coat at tint. Very nice customer service Highly recommended. 👍👌👍
Ghie D. Dela Cruz
2022-12-02T10:56:43+0000
Good job👍Highly recommended👍
Allison May Encarnacion
2022-11-23T23:39:38+0000
The result was absolutely superb! The tint was great. Highly recommend!⭐️⭐️⭐️⭐️⭐️
Joel C Madera
2022-11-11T09:50:26+0000
d best gyod ang quality sa maskPro and services... up up up
Merry Ann
2022-11-05T02:34:15+0000
Thank you for your excellent service. Highly recommended👍We are so happy with the outcome worth it🥰
Reiner James Suico
2022-10-29T11:37:01+0000
They do a great job in applying ceramic coating and car washing. They also have friendly staff and give great customer

...

service, especially when you are waiting for your car! Highly recommending this auto detailing store!

read more
Deb Silverio Pineda
2022-10-26T07:25:12+0000
Quality customer Service really good. Ceramic tint is a very good quality no regrets of setting it up on our car. i

...

will come if i buy a new car for sure i go staright to MASKPRO.

read more
Thomas P. Ortuoste
2022-10-02T08:04:01+0000
Great quality product & services. Very professional, accomodating and courteous staff. Meron pang brewed coffee and

...

foot massage! Thumbs up!

read more
Regine Mae Laude
2022-09-04T04:01:48+0000
Highly recommended both services and their staff. Thank you MaskPro Davao. Truly reliable.
RachelleRhys Delos Reyes Victorio
2022-08-10T15:11:25+0000
Thank you MaskPro Davao for taking good care of my car. Very satisfied with the ceramic coating service I availed.

...

Great quality of work. Highly recommended! 💯😊👍

read more
Carl Crisostomo
2022-08-09T08:37:43+0000
Super galing mag trabaho, Highly recommended! Thank you MaskPro. Wishing you more clients to come.😊
Mark Anthony Gallo Pangilinan
2022-08-06T10:11:03+0000
Highly recommended! Crew are very accommodating and professional! Results are superb and it's really worth the price

...

Thanks Maskpro!! 💯

read more
Andy Olegario
2022-07-24T06:19:22+0000
guaranteed quality services that car owners are satisfied with the results
Emp Shockwave
2022-07-12T03:49:43+0000
Excellent job guys! My FT looks new again. Thanks for your good service,well- appreciated🍻
Tj Abdulrahman
2022-06-29T13:24:45+0000
Very responsive customer service. With the diamond ceramic coating, our vehicle has extra protection from rusting and

...

corrosion. Thanks MaskPro! :)

read more
Cassidy Roux Juyo-Montederamos Lacerona
2022-06-14T07:58:31+0000
I am very satisfied with the service! I highly recommend MaskPro to all vehicle owner! The chat/customer support is

...

superb! Very accomodating! Thank you!

read more
Kyle Solano
2022-06-14T06:07:32+0000
Best service! Affordable and very accommodating staff! Ceramic coating with repair thanks! God bless!
Allan Sardon Mamon
2022-05-13T00:47:32+0000
results of the ceramic coating is impressive and customer service is great.
Fritz Brian Simbulas
2022-05-05T10:38:19+0000
highly recommend for helmet ceramic coating as well👏👏 best service and approachable employees.
Freddie Mark Mendoza
2022-05-01T01:26:30+0000
madaling kausap. maayos ang gawa. reasonably priced. exceeds expectations. what more can you ask for? will definitely

...

recommend them to anyone who would need/want nano ceramic coating and tint. 👌👌👌

read more
Eva Eblamo Mata
2022-04-19T08:09:58+0000
One of the best ceramic coating services out there, would definitely recommend. Customer service is superb - we were

...

even offered coffee while waiting in their lounge. Got the car looking even better than when we first received it. Ten out of ten would recommend.

read more
Justin Felisco
2022-03-19T05:25:17+0000
Kudos to the team from inquiry to releasing. Excellent service and products. Looking forward sa PMS.
Kenneth Cascabel
2022-03-17T04:24:51+0000
Great customer service! Their services yield good results!
Cin Dy Suzon
2022-02-19T11:12:35+0000
Excellent service!!! Great Customer Service and Front Desk Officer! Looking forward for my PMSs :)
Sag Gee
2022-02-04T20:08:59+0000
had my brand new Ford everest sport.. Mas lalong gumwapo.. kaya Highly recommeded po.. ano pa inaantay nyo Go na sa

...

MASKPRO..

read more
Dane Bhoy
2021-12-26T14:21:33+0000
Excellent service! I am very satisfied.👍👍👍 Highly recommended. Keep it up MaskPro Davao. Thank you!😊😊😊
Kix Uro Doc
2021-11-30T08:35:07+0000
This is a very late post, last October 21, had my vehicle's ceramic coating for the body & glass…staff was very

...

accommodating & responsive, from my inquiries up to the time I picked up the unit…I couldn't go wrong by choosing Maskpro

read more
Nehoh Nehoh
2021-11-19T22:41:27+0000
Had my car ceramic coated, looking brand new🙂 Commendable customer service and work results!
Joshua Adalid
2021-11-12T11:21:42+0000
very accommodating and good quality of services double thumbs up to MaskPro.☺️🥰
Har Vey
2021-08-28T03:36:23+0000
Good service and highly recommended
John Lorenz Mirhan
2021-06-22T06:20:14+0000
Good Service, Fast Turnaround.
モナシリオ ジャスミン
2021-05-08T11:01:50+0000
superb talaga siya prang always bago ang car mo
Kram Senap
2021-05-07T23:40:16+0000
Satified customer here👍👍 we recommend 👍👍
Temoc Lanreb
2021-03-27T23:12:36+0000
Ceramic coating and tint.
Jon Skibbe
2019-10-12T09:00:34+0000
Cleaning my car is so easy and actually enjoyable! It works as advertised and the shop crew are professionals. I think

...

they're opening up in Obrerro soon.

read more
Andrew Espera
2019-06-19T12:27:22+0000
So happy to see that my brand new Suzuki Vitara 2019 will always look brand new after the professional application of

...

MaskPro! The glossy and spotless surface of the newly coated car shows the meticulous, high quality service provided by the crew! Plus, their excellent customer service will surely keep you excited! Overall, I highly recommend that you coat your car now with MaskPro! Hurry and get the protection that you need for your car against harmful elements so it will always look fresh and new! 👍🏼 Thank you, MaskPro!

read more
Dio Valentino Ledda
2019-05-16T12:07:30+0000
Highly recommended from marketing to aftersales they provide the best services. What I like the most they offer free

...

check every 6 months and warranty for 5 years or more. 👌

read more
Jed Legere Dela Cruz
2019-04-09T13:20:02+0000
Worth the money! Awesome results. Scratches no more. A must have for your car. 👍🏻
Shalom Baltazar
2019-03-11T10:33:41+0000
Great Product, Excellent Service!
Next Reviews