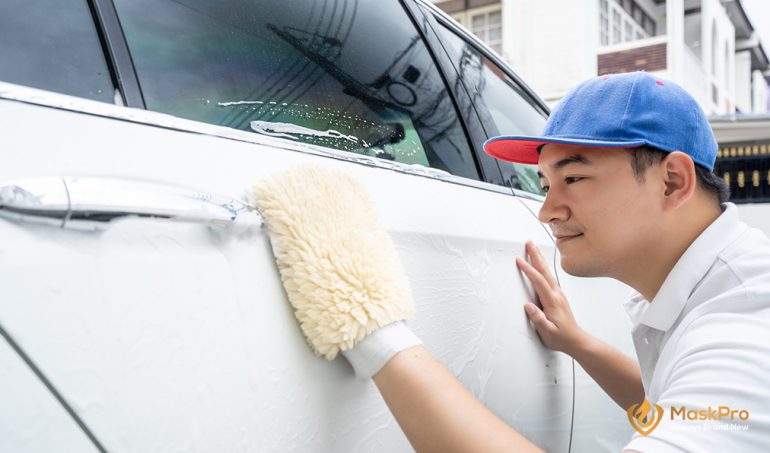 How to Rinseless Wash Your Vehicle – Maintain a MaskPro Nano Ceramic Coated Cars
After car detailing with MaskPro Nano Ceramic Coating, It's essential to keep your car clean and well maintained to keep the gloss and shine of your MaskPro Nano Ceramic coated car. But, washing your car can make a lot of mess because of water, rinsing it off and waiting for it to get dried. This process may also take a lot of your time. So, what to do?
The perfect solution for this is rinseless car wash that uses less water, doesn't require rising off the vehicle and saves your time. No water, no rinsing, no wait to get it dried off!
Rinseless car wash is, in fact, the best wash after car detailing, specifically MaskPro Nano Ceramic Coating. It is not waterless wash, but uses less water that doesn't run down on the floor, and is economical as well.
Let us learn how to carry out the rinseless wash process.
Things Needed for Rinseless Car Wash
Before starting the rinseless wash, make sure you have all the necessary items available that you would need to carry out the process. These include;
A bucket; usually holding up to 5 gallons of water. Then prepare 2 or 3 gallons of water.
Rinseless wash solution
Microfiber bone sponge
Large microfiber towel and small microfiber edgeless towel
Grit guard insert (recommended)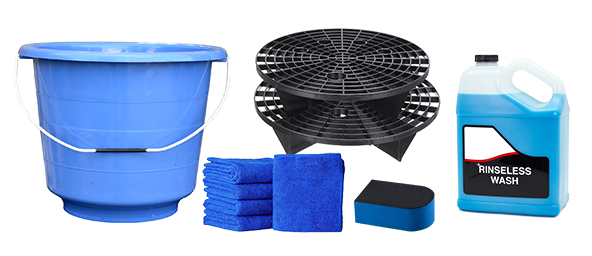 The Process of Rinseless Washing
Provided that you have all the necessary items available, now it's time to apply rinseless wash to your vehicle. Rinseless wash is same as a normal wash, apart from it doesn't need rinsing off later.
To carry out rinseless car wash, follow these steps;
1. Getting Started
Take a bucket, let it be a big bucket as 5-gallon bucket, and fill it with 2 to 3 gallons of water.
Tip: You can also use two buckets; one for rinseless wash solution and other containing clean water with grit guard insert. It will trap the dirt and residue you remove from your vehicle and settle it at the bottom of the second bucket.
2. Measure the required mixture
Now you have to measure the concentration of rinseless wash to be mixed with water. The most recommended method is; 1ounce of rinse less wash for 2 gallons of water.
After measuring the concentration, simply mix rinseless wash to the water.
Tip: Make sure to buy the high-quality rinseless wash as it will be more effective to trap the dirt and clean your car.
3. Start applying rinseless wash using a microfiber sponge
The main idea behind rinseless wash is to clean and wash the one panel of your car at a time. It can be helpful to wash only a specific panel of the car if the rest of the surface is not dirty, or the whole car.
Apply rinseless wash on one panel of your vehicle
Apply rinseless wash solution to the quarter panel of your car with the help of microfiber bone sponge and gently let the wash mitt. The first mitt will catch the dirt and dust from the coat of your car.
Tip: Use the front side of the sponge to apply rinseless wash on your car because the back side can result in scratches and put swirl marks on the coat of your car. Also, don't push it hard, just mitt the solution to avoid scratches.
Applying rinseless wash on different sections of your vehicle
As said earlier rinseless wash applies to one section at a time, so below are the recommendations to slice up your car into sections:
Start applying from the roof, wash the roof first
After the roof, do front glasses
Now do rare glasses
After rare glasses, clean the trunk
Now apply on the hood
Now do one panel then rest of vehicle in panels.
Clean tires at last because they are dirtier than other parts of the vehicle
4. Clean the rinseless solution using a large microfiber towel
After applying the rinseless wash solution to a panel, gently wipe it with a large microfiber towel to soak up the dirt and residue. Let it be a gentle touch to keep coat safe from any damage and scratches.
5. Complete dry the coat
In most of the cases, a single wipe will remove all the residue and dust from your vehicle panel. But, we recommend using small edgeless microfiber to remover the leftover moisture.
6. Repeat the process on other parts of the vehicle
You're done with one panel of the vehicle. Repeat the same process to the remaining panels and let your MaskPro Nano Ceramic coated vehicle shine.
Note: After applying sponge mitt to each panel, pass it through clean water bucket and grit guard to remove dust off it. Again, put it in rinse wash bucket before applying to a new panel.