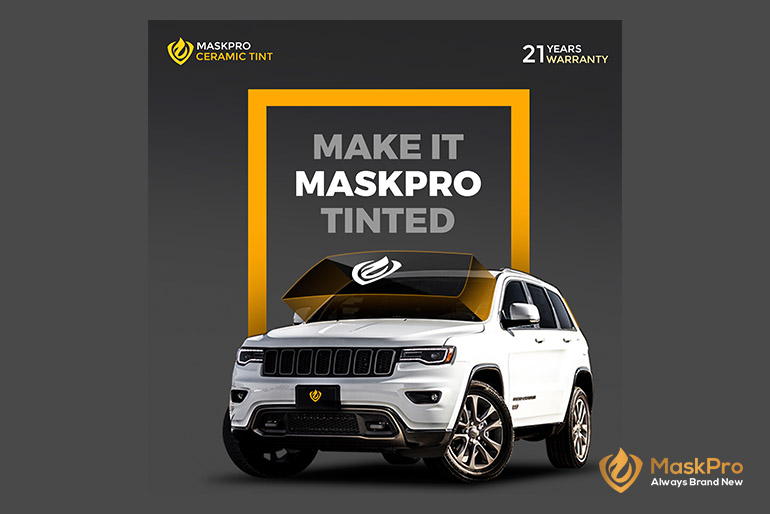 MaskPro Ceramic Tint: Incorporating The Latest Nanotechnology in Window Films
Years ago, when people think of window films for cars, they don't really take so much time in picking a type of film. Whether it's dyed or metalized, they seem to be the same. This is because all window films were pretty much giving the same benefits to car owners – privacy and sun protection.
The advances in nanotechnology led to the development of a type of tint that blows all other types of tints out of the water. MaskPro has taken hold of this technology and now offers a window film of first class rate – the MaskPro Ceramic Tint.
Tests in laboratories has proven MaskPro Ceramic Tint to outperform all other types. So how exactly does it work and how is it different from ordinary window films?
Nanotechnology
Ceramic tints are similar from all other tints in that it also uses thin sheets. But that's where the similarity ends. Unlike regular tints that are dyed or coated with carbon materials, MaskPro Ceramic Tint are infused with nano particles adapted from Japan's nanotechnology. These nano particles are the very reason for the film's extraordinary performance.
Laboratory tests have found the film capable of blocking UV rays, infrared light, and glare from the sun. On top of these benefits, the nano particles can make window films extremely durable that not only do the windows come off scratch resistant, but shatter-proof as well.
Why the Need to Block Off UV Rays
We all know that the sun's UV rays can be harmful especially with prolonged exposure. We think that when we're inside cars with windows dyed to gray and black we're safe from sun damage. The bad news is that the sun's UV rays that reach the Earth's surface is comprised of two types, UV-A and UV-B. While a great percentage of UV-B can be blocked by some films, UV-A can easily penetrate even dyed windows. The worst part is that the UV-A is the type of ray associated with skin cancer and skin aging.
UV rays don't just damage our skin but our car's interiors as well. They cause fading and cracking on leathers. When people see damages to their upholstery just a few months after installation, that's not just natural occurrences, the damages were greatly accelerated by the UV rays.
The good news is that laboratory tests have found ceramic tint to block 99.9% of the sun's UV rays, that's both UV-A and UV-B. This means a great deal of protection for the health of those who are frequently going on long drives, as well as preservation of the condition of the car's interior.
The Danger of the Sun's Glare
A lot of people find it a nuisance when their vision is impaired with unnecessary light. But more than the discomfort, this is also a hazard because it can distract a driver. MaskPro Ceramic Tint anti-glare property can easily prevent 99% of the glare from entering the car so drivers can enjoy driving safely in natural light.
Long Lasting and Economical
The problem with most window films is that they're not long lasting. They're susceptible to scratches and wear-and-tear. What's more is that they easily fade. This makes replacement of the film quite more frequent compared to ceramic tint. People who often think they can save on cheaper films realize later on that they spent more in the long run. Ceramic tints on the other hand, are found to be durable. The nanotechnology from Japan employed in the development of the film allows it to be durable and tougher than ordinary window films. That makes it more economical.
How Ceramic Tint Prevents Robbery
One of the safety features that MaskPro Ceramic Tint can boast about is the shatter proof quality it provides glass windows.
A lot of people are wary of parking their cars in poor lit streets for fear of smash and grab culprits. And this fear is well founded because it only takes a criminal three seconds to smash a car and grab whatever is inside. With ceramic tints, criminals won't be able to shatter the glass window even if they're using a hammer or rocks. They may be able to leave cracks, but the ceramic film will hold the fragments in place and deem it impenetrable.
Zero Signal Interruption
One of the problems with dyed and metalized films is that the dye and polyester sheets in the film cause interruptions on radio and cellular phone signals. In an age that has great appreciation for the GPS, this is bothersome. Because ceramic tint has zero metal properties, it won't cause any disruptions on radio and cellular signals.
Commitment Unlike Any Other
Even if ceramic tints are tough and durable, MaskPro provides a longer warranty than other providers. The commitment to service MaskPro has for valued clients is evident in the 21-year warranty.
Be Among The First 100
Based on what we know so far it's evident that MaskPro Ceramic Tint goes over and beyond other window films in terms of benefits and quality. But as if that's not enough, MaskPro is also offering a promo price for the first 100 clients from the introductory price of P12,950 to reduced price of P8,950. It doesn't get any better than that.
What are you waiting for? Book an appointment with us today and be one of the first 100 clients.