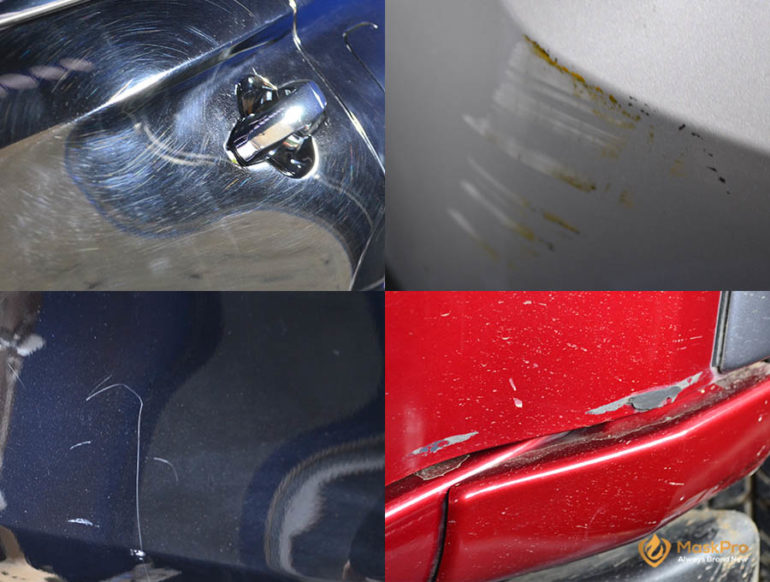 Different Levels Of Scratches: And What You Need To Know About Them
If you're a driver it's likely that scratches are a cause of annoyance for you. It ruins the overall polished look of your car and it makes the car look unkempt.
What you're probably unaware of, as most drivers are, is that car scratches can actually have varying levels. And more often than not, removing a single scratch may not be as easy as simply waxing over it or buffing. Your car may look glossy and immaculate at the onset but give it a couple of months and you'll find yourself frustrated that the scratch is very much noticeable again.
What you need to understand is that every scratch, as we have mentioned, has a distinct level and should therefore be treated differently. Also, keep in mind that there are just some scratches that can't be completely removed and can only be treated in a way that it's not as noticeable prior to the treatment. But before we walk you through the different levels of scratches, there are a couple of concepts about coating that you first need to know.
Once manufacturers and factories complete the application of the colored base coat of a car, they finish the entire car with what's called a clear coat which is a non-pigmented resin. You can think of the clear coat as a kind of protective cover for the car because that's really what it does. It protects the car from oxidation as well as the hazards of the sun and its UV rays. The finish also gives the car a glossy appearance. It's also worthy to note that not all clear coats have the same depth measurements.
It varies by manufacturers but it's safe to say that it's within the range of 1.5 to 2 mils, which is a thousandth of an inch if you're unfamiliar with that unit of measurement. Obviously, that makes the clear coat unbelievably thin so whenever a car is being polished a certain amount of the coat is removed and it's no longer a close approximation to the original clear coat depth. As such, there should be a certain control or constraint to the amount of clear coat removed. You might say it's tricky but the idea is really straightforward. Simply put, you want your clear coat to be as close to the original depth set by the manufacturer and you wouldn't want to remove so much of the coat that it loses it's efficacy in protecting your car which is really one of its functions.
Some people have sworn that when they used the correction method which is basically a cutting and polishing method, the portion of their car with scratches looked 95% better. There are others who think that the preservation method which is simply filling in the portion with scratches as opposed to taking off some of the clear coat worked better for them. The truth is it's not as simple as picking one method over the other because in order to find the best solution to car scratches you need to first understand what happens to the car whenever it gets scratched and the purpose of the clear coat surface.
SCRATCH LEVELS

Basically there are four layers to the surface of a car: the metal, the primer coat, the paint based coat and lastly the clear coat. Determining the level of a car scratch depends solely on its depth. An assessment of how deep the scratch is will ultimately determine the kind repair that needs to be done on the car surface.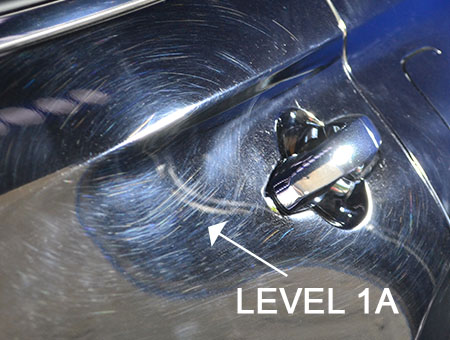 The first level is the Level 1A scratch. A car can get this kind of scratch from coming into contact with basically anything. It can even get scratched by something as small as dusts from a soiled and dirty cloth. It's not a wonder that this type of scratch is the most common of all. However, it is at this level that the scratch is easiest to fix but most difficult to identify because it's not at all that deep.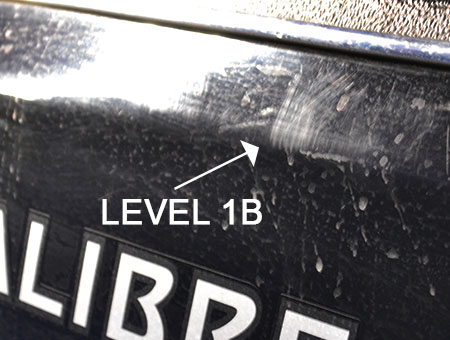 Level 1B leaves a deeper mark than the Level 1A scratch but is still considered a minor scratch as it's still at the level of the clear coat. Usual causes of this level of scratch are those instances when you get your car washed through automatic car washes. The way to fix or reduce the appearance of this type of scratch is to use the right polishing technique and rounding the edges of the scratch. Typically, a machine is used for fixing marks at this level.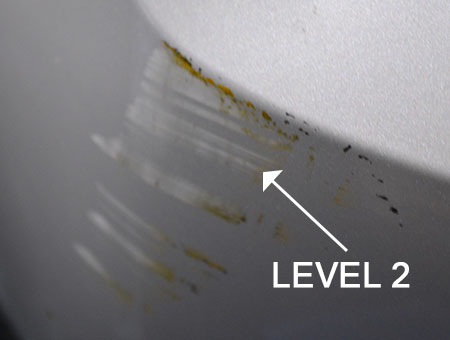 At Level 2 the scratch went through the clear coat and reached the paint but did not touch the primer and the metal. It may have removed some of the paint but not entirely everything on that surface. You will know the scratch is at this level when you're unable to see a different color from the color of your car. You will not be able to eliminate the scratch entirely but you can still touch it up so the scratch will not be apparent and eye-catching.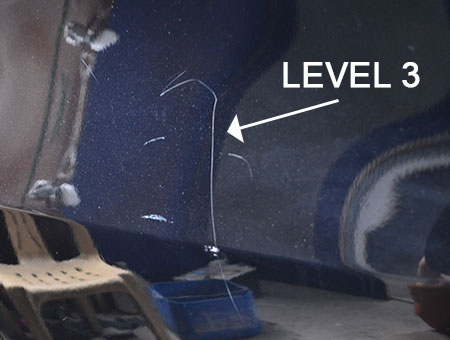 You will know when the scratch of your car is at Level 3 when you can make out a gray or white color within the line of the scratch. At this level, the scratch went beyond the clear coat and paint and straight into the primer. As with Level 2, you will not be able to remove the scratch completely but you can still reduce the appearance of the scratch with touch up paint and clear coat. When the scratch hits the primer it doesn't mean there will be rusting in the metal portion but it's always better to take immediate action and avoid further damage.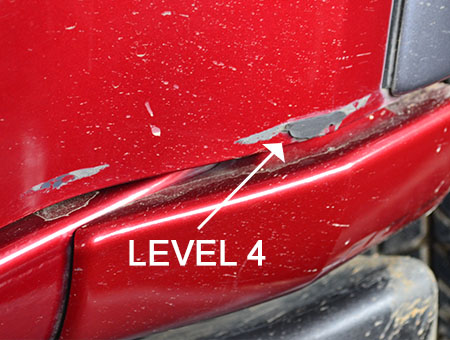 Level 4 is the deepest level of car scratch. As such, polishing will not fix it because this scratch has already reached the metal surface of your car. At this point you should take immediate action as leaving the metal surface exposed will cause rust to your car due to oxidation. In order to fix this, you need to repaint after cleaning the surface. You'll know if the scratch is at Level 4 when you see a silver color at the scratch.
HOW TO FIX IT
While most people think that the solution to fixing car scratches is singularly all about polishing and buffing, it's not only incorrect but it could also do more harm to your car in the long run than preserve its pristine appearance since buffing can take off some of the clear coat of the car as was mentioned earlier. In essence the thicker the protection your car has the longer you'll be able to preserve the car. The preservation method also known as filling may seem to be the better choice when fixing car scratches. This is not to say that you should never have your car polished because polishing can also smoothen the edges of a scratch making it unnoticeable. So which is really the better method? Fixing a car scratch is not as easy as pitting one method against the other, it requires a certain level of expertise which is why it's always better to have a skilled technician fix it for you.
NANO CERAMIC COATING
Now that you have a certain level of understanding of the extensiveness of fixing car scratches, wouldn't it be better if you could prevent scratches in the first place? Wouldn't it be preferable to have a kind of protection for your car such that scratches would be greatly reduced? The good news is science has allowed us to have just that kind of technology and it comes in the form of Nano Ceramic Coating. The coating that comes from this technology acts like a second layer of protection to your car.
MaskPro Nano Ceramic Coating uses a liquid polymer that seals the surface of a car through strong chemical bond. In effect the car becomes water-repellent, or what is commonly known as hydrophobic. Because the surface is completely sealed, the car becomes resistant to just about any liquid and semi-liquid. Think of all the mud that you can just wipe off and say goodbye to all those grime. Ultimately you'll be able to save because there won't be as much need to constantly take your ride in for that automatic car wash. Most importantly, Nano Ceramic Coating provides your car with excellent protection against scratches from hard surfaces such as gravel and it gives your car a healing property with its resistance to scratches. This is possible because the nano ceramic coating forms a chemical bonds semi-permanently with the surface of the car. And this type of coating resulting from that bond lasts for many years.
So the question of which method to use when fixing a car shouldn't have to be a question when you've done your part in preserving and protecting your car by beating the environmental hazards through the Nano Ceramic Coating.
Here at MaskPro we can assure you that all our technicians are more than equipped to provide your car with the protection it needs using the best Nano Ceramic Coating service. Say goodbye to those scratches whatever level they may be and say hello to that seemingly perpetual pristine condition that is your car. Contact us today and schedule an appointment and we'd be more than happy to provide the services you need.