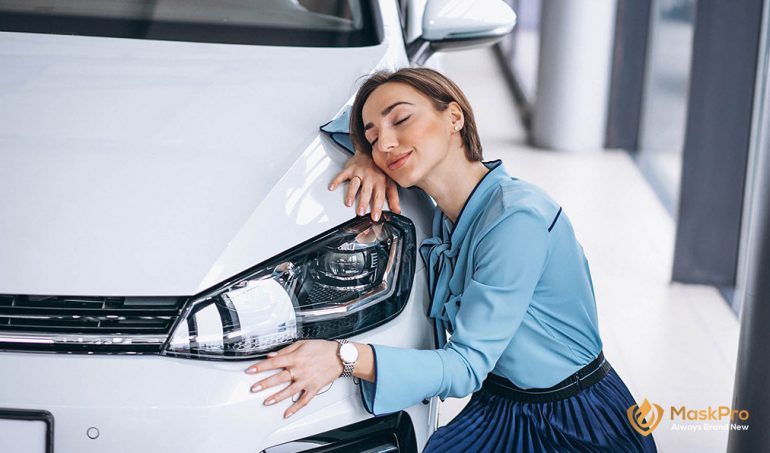 7 Top Reasons Why Your Car Needs Nano Ceramic Coating
Scrolling Instagram while trying to get some sleep at night, we all have come across short videos in which a surface is sprayed with something and then a huge bucket of mud, colored water, or even ketchup is thrown on it. However, instead of sticking to the surface or leaving a stain as expected, the mud quickly rolls down as if there is an invisible layer of plastic sheet protecting the surface. After the video ends, you are left to wonder what that substance was that made the surface impervious to any liquid or semi-liquid.
Though the surfaces that are treated as such in the videos vary from a tabletop, a pair of shoes, or even a piece of thick paper, the one thing that is most popular in this kind of videos is cars. In fact, every advertisement of a Nano ceramic coating treatment for cars is a slightly different take on the same video.
But how can a ceramic coating have this seemingly impossible effect on a car surface? To understand this, we must know what a Nano ceramic coating actually is.
What is the Nano Ceramic Coating Technology?
Nano ceramic coating involves the application of a liquid polymer your car surface. This polymer goes inner into the pores of the paint job on the car and makes strong chemical bonds with it. This way, a protective layer is introduced on top of your car which keeps it looking brand new for years.
These days, the ceramic coating is used as a preferred alternative to waxing because of several reasons, some of which are as follows:
1. It creates a 'magic' hydrophobic surface

As discussed before, a good quality nano ceramic treatment, such as Maskpro Nano Ceramic Coating, will make your car surface invulnerable to all liquids and semi-liquids. Whether it is mud, dirt, rain, or any other liquid that you can imagine – if it is watery enough, it will just bead up and slide off.

Any residue that remains is extremely easy to clean with just one swipe of a clean cloth.

2. Nano ceramic coatings give your vehicle an extra shine

If you want an enhanced gloss and want your car to always look like you have just driven it out of the dealer's lot, even when it has been years since you bought it, investing in a nano ceramic treatment for your car is a good idea. A ceramic coating will give your baby that extra oomph and personality that is so desirable between car enthusiasts.

3. Protection from accidental scratches

Having a quality nano ceramic treatment can help you bid farewell to any worries associated with where you park your car. When a regular old car's paint job becomes quickly deteriorated with the everyday wear and tear and the gravel scratching against the surface, Maskpro Nano Ceramic Coating will give your car a 10H hardness that is extra resistant to scratches.

4. Nano ceramic coated vehicles are low maintenance

This is one of the most attractive features of a nano ceramic coating for people who live too fast-paced life to pamper their ride but still want it to look the best. A nano ceramic treated car demands much less attention, time, and effort to appear as if it has been always properly cared for.

Say goodbye to scrubbing the top of your car to get rid of dirt and grime with harsh chemicals until your hands get sore – a nano ceramic coating is a one-stop shop for all your solutions.

5. Nano ceramic coating saves you money on car washes

If this was not enough to persuade you to get your car the ceramic treatment it deserves, then consider this: a nano ceramic coating for your car will likely recover its cost in savings within the first few months.

Not only this, a quality nano ceramic treatment will last minimum a year and can last a lifetime, with the right care. This makes nano ceramic treatment extremely economical and pocket-friendly –, especially in the long run.

6. The Self-healing Property

Do you always check twice before parking your car that it is not under the Sun? Exposure to harmful UV rays from the sun can degrade the paint job on a vehicle, and cause it to look faded and damaged. But, if you have been smart enough to invest in a nano ceramic coating, this is no longer a problem for you.

Nano ceramic coating not only provides UV protection, but its self-healing ability also resists scratches and make them disappear.

7. Protects from Oxidation and Corrosion

Oxidation is one of the biggest factors damaging the overall look of your car and its resale value. Car's paint slowly damages overtimes when it's exposed to harsh chemicals.

When the chemicals in your car's paint break down, it forms oxidation. Thus, nano ceramic coating protects the surface of your car and increases its value. It, indeed, makes your car look brand new.
Wait! Are you planning to protect your car with everlasting nano ceramic coating? We're here to offer you premium nano-coating services. Click here to get the custom quote.